Wembley sale collapse a 'blow for grassroots' game
The collapse on Wednesday of a proposed deal to sell Wembley Stadium has been described as a "huge disappointment" and a missed opportunity by two of the biggest sponsors of grassroots facilities.
Fulham owner Shahid Khan had offered the Football Association (FA) £600 million (US$787 million) for the national stadium, as well as letting it keep the Club Wembley hospitality business, worth about £300 million.
However, the American businessman withdrew the offer.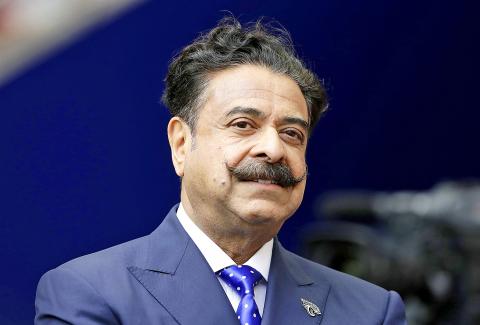 Fulham owner Shad Khan speaks at Wembley Stadium in London on Sept. 24 last year.
Photo: AP
FA chairman Greg Clarke and chief executive Martin Glenn were both in favor of the deal and wanted to use the money to fix England's dilapidated changing rooms, waterlogged pitches and stretched 3G facilities.
They hoped Khan's cash could be the catalyst for a total investment in community facilities over the next 20 years of £3.3 billion.
However, in separate statements, Glenn said that the proposed sale had been "more divisive than anticipated," while Khan said it had become clear "there is no definitive mandate to sell Wembley."
The UK's largest sports charity, the Football Foundation, would have been the vehicle the FA used to pick, manage and fund the projects, as it does with the funding it receives from the FA, the Premier League and the British government.
"News that Mr Khan has decided to withdraw his offer to buy Wembley should come as a huge disappointment to community footballers everywhere," the foundation said in a statement.
"Football participation in this country is huge. Unfortunately, those who play the game, simply for the love of doing so and for the health benefits, are having to put up with a stock of community football facilities that is in a shameful state," it said.
"This would have been a once-in-a-lifetime opportunity to make considerable inroads into probably the most pressing issue facing football in this country," it said.
Comments will be moderated. Keep comments relevant to the article. Remarks containing abusive and obscene language, personal attacks of any kind or promotion will be removed and the user banned. Final decision will be at the discretion of the Taipei Times.