Surfer makes a name with videos
Surfer Matt Meola from Hawaii does not participate in a lot of contests. Not really his thing.
The 29-year-old is a soulful sort of surfer who likes to fish, hunt, wants to design fishing lures using his hair and is raising a deer. Yes, a deer named Doe-nut.
He is backed by sponsors and has a film crew — more like one person — who follows him to the waves.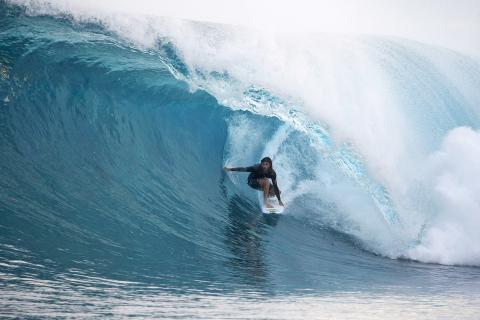 Matt Meola surfs near Indonesia's Meantawai islands on June 8.
Photo: AP
The 2020 Tokyo Games, where surfing is to make its Olympic debut? That is not him.
Meola is content catching a wave wherever and whenever there is a wave worth catching.
"All my best memories of surfing are my highlight waves I've caught," Meola said in an interview before leaving to participate in the World Surf League's aerial event in France beginning this weekend. "I'm more into the innovative side and trying new tricks."
His introduction to surfing began when he was two years old and his dad took him out, but it was not his first love. That honor belonged to skateboarding as his family constantly took him to the park to ride.
He started on the contest circuit when he was 15 — a couple in Maui, a few more on the other islands, but it was expensive and really not his forte.
Sure, he did well — really well, even winning a state championship — but he felt like he was in a pressure cooker.
"I don't like being told when to surf or only to be able to go out for 30 minutes at a time," Meola said. "I see surfing more as an art form than a sport, anyway. It's hard to judge because everyone has got an opinion on who they like. I've never really been into it."
Filming combined with surfing? Now that is a different tale.
A few years back, he made a video clip — with help from cinematographer Elliot Leboe — of his surfing exploits that won him a US$100,000 contest.
The video went viral and helped launch the next chapter of Meola's career, earning him a deal with the Rockstar energy drink, along with other sponsors. Before that, Meola was making US$700 a month.
It changed nothing, though.
"I'm trying to do the next big thing that I haven't done yet," he said.
One of his favorite spots is in Peahi, Hawaii, which is better known as "Jaws" for its huge breaks that can exceed 15m. Once, Meola caught a giant wave and wiped out at the end. The wave engulfed him and the leash from his board bound his feet together. Somehow, he worked his way free.
That was pretty much the end of his big-wave riding.
"He was shook up for a very long time," said his mom, Nancy. "He charges and goes for it, but we're like: 'You know, you don't have to do that.'"
"He just loves surfing more for its artistic representation. He's an artist. His art is putting together these videos that are anticipated, because he's probably one of the most innovative surfers of his time," she said.
These days, he is into aerials, where a rider does a trick off a wave. He studies snowboard and skateboard maneuvers and takes them to the water, even though no two waves are the same.
For most, this weekend's aerial event could be viewed as a way to squeeze some practice for the Tokyo Olympics, but not for Meola.
"Winning a gold medal would be pretty huge," Meola said. "But to me, the best surfer in the world is the surfer who can do it in all conditions."
"My passion is to go out and try to get the best footage I possibly can and piece it all together and make a cool edit for people to watch," he said.
A maestro on his surf board, Meola and his buddy, Jon Spenser, have crafted numerous short films. Meola is the actor and helps pick the music.
When he is not surfing, he is fishing or bow hunting. Among his pets is Doe-nut, a deer he took in.
While hunting on a ranch, a buddy texted him that he had shot a deer only to discover she was pregnant. His friend delivered the fawn, gave her CPR and put her in a backpack to carry out. They met up with Meola, who ended up adopting the fawn.
"I'd like to be more recognized as an outdoorsy person who likes to surf, hunt, spearfish and fish," Meola said. "Surfing is a small part of that. When you blend it all together, that's really who I am."
Comments will be moderated. Keep comments relevant to the article. Remarks containing abusive and obscene language, personal attacks of any kind or promotion will be removed and the user banned. Final decision will be at the discretion of the Taipei Times.