Woods lifts first title in five years
TWO-YEAR ABSENCE: It was an emotional finale to a PGA Tour season which saw Tiger Woods return to the highest level after he had feared he may never play again
Tiger Woods on Sunday claimed his first victory in more than five years, completing a two-shot win at the Tour Championship to crown a fairy-tale comeback after a nearly two-year absence.
The 42-year-old, 14-time major winner carded a one-over 71 at Atlanta's East Lake Golf Course to claim the 80th PGA Tour title of his glittering career.
Woods, who finished with an 11-under aggregate 269, raised his arms in delight after the victory, with several thousand fans ringing the green roaring their appreciation.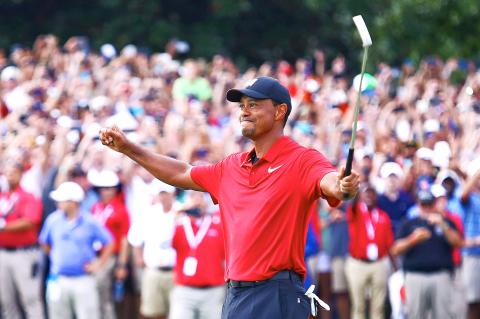 Tiger Woods of the US celebrates winning the Tour Championship at East Lake Golf Club in Atlanta, Georgia, on Sunday.
Photo: AFP
Woods said he had nearly been overcome with emotion as he walked up the 18th fairway.
"I was having a hard time not crying coming up the last hole," Woods said, whose previous win had come 1,876 days ago at the 2013 WGC-Bridgestone Invitational. "I kept saying: 'Hey, I could still play this out of bounds,' but once I got the ball on the green I gave [caddie] Joey [LaCava] a high five because I knew it was done."
It was an emotional finale to a season which saw Woods return to the highest level after he had once feared he might never play again.
"It was just a grind out there," Woods said of his final round. "I loved every bit of it. The fight, the grind, the tough conditions. To win, it's certainly up there with obviously all the major championships I've won, Players, World Golf Championships, but then this is under different circumstances. I just didn't know whether this would ever happen again. If I could somehow piece together a golf swing this year, I felt like I could do it ... somehow I've been able to do that and here we are."
Woods later revealed he had also fought back tears on the final green as he prepared for the par putt to complete the win.
"I realized all of sudden I was going to win the tournament," he said. "My eyes started tearing up a little bit. I just can't believe I pulled this off after [what] I've gone through. It's been tough. I've had a not-so-easy last couple of years. I've worked my way back. I couldn't have done it without the help of all the people around me."
Meanwhile English Olympic champion Justin Rose ensured he walked off with the FedEx Cup playoff title after finishing on six-under for a share of fourth place.
However, Rose was made to sweat after a shaky three-over 73 on his final round.
"It felt like a slow death out there for me today," Rose said before saluting Woods, who stood nearby. "I'd like to congratulate Tiger right now. I think the world of golf is really proud of you, and is super excited about your game and the way the game of golf is going."
Comments will be moderated. Keep comments relevant to the article. Remarks containing abusive and obscene language, personal attacks of any kind or promotion will be removed and the user banned. Final decision will be at the discretion of the Taipei Times.