Meyer probe shows abuse can no longer be ignored
BACKTRACK: The Ohio State coach said in a statement he had taken 'appropriate action' regarding domestic abuse allegations against his assistant coach in 2015
For years, the two most powerful coaches in college football have been Alabama's Nick Saban and Ohio State's Urban Meyer.
Combined, their teams have won nine of the past 15 national championships. They are giants in a sport where coaches are already exalted to mythical proportions, the highest-paid public employees in their states, their word greater and more important than even the presidents of their schools.
So the fact that Ohio State put Meyer on administrative leave on Wednesday, pending an investigation into what Meyer knew about an assistant coach's history of domestic abuse, shocked many.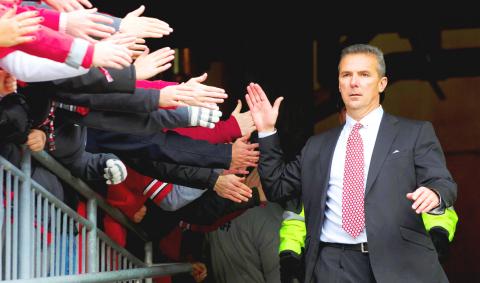 Ohio State football coach Urban Meyer enters the stadium before a game in Columbus, Ohio, on Nov. 26, 2016.
Photo: Greg Bartram, USA Today
Meyer, it always seemed, was larger than any law at his schools. Officials at the University of Florida, where he won two of his three national titles, did not appear to care about more than 30 arrests of his players there, including one who texted "Time to die bitch" to his girlfriend.
Leaders at Ohio State looked the other way when he hired Zach Smith, the assistant coach accused of domestic violence, after Smith had been arrested for pushing his pregnant wife into a wall back in 2009.
What Meyer wanted, Meyer got. Nothing mattered more than winning. At least until last month, when news broke that Smith's ex-wife, Courtney, had filed a civil protection order against Smith, leaving Meyer no choice but to fire his longtime assistant and raising questions about whether Meyer had been protecting a man who had a history of hitting his wife.
Now Meyer's job — and perhaps his career — hang onto whether he knew about another domestic violence incident involving Smith in 2015, one in which Courtney Smith told police in Powell, Ohio, that she "has been a victim of sustained physical abuse by the suspect."
Meyer on July 24 told reporters at a Big Ten conference media session that he did not know of any abuse allegations about Zach Smith beyond the 2009 incident.
A report by former ESPN college football reporter Brett McMurphy on Wednesday showed evidence that Meyer knew about the 2015 incident, including a text exchange between Courtney Smith and Meyer's wife, Shelley, in which Courtney Smith described being attacked by her then-husband.
However, Meyer seemed to backtrack on Friday, saying in a statement on Twitter that he "took appropriate action" in 2015 when responding to allegations against Zach Smith.
In his statement, he said he "failed on many fronts" in his remarks at the Big Ten conference.
"Here is the truth: While at the University of Florida, and now at the Ohio State University, I have always followed proper reporting protocols and procedures when I have learned of an incident involving a student athlete, coach or member of our staff by elevating issues to the proper channels," Meyer said.
"And I did so regarding the Zach Smith incident in 2015. I take that responsibility very seriously and any suggestion to the contrary is simply false," he added, saying he would have no further comment.
A clause in Meyer's contract says that if he must report any "known violations" of Ohio State's sexual misconduct policy, including "intimate violence and stalking."
Meyer's future at Ohio State likely depends on whether Shelley Meyer told her husband about her text exchange with Courtney Smith in 2015 and whether he lied when he told the Big Ten media he knew nothing about the alleged abuse.
If the group of school trustees, former US attorneys and politicians that Ohio State put together to investigate Urban Meyer believes he knew something in 2015 about possible abuse inflicted by Zach Smith and did nothing about it, no national titles or mythical stature will save him. He would likely be fired.
Additional reporting by AFP
Comments will be moderated. Keep comments relevant to the article. Remarks containing abusive and obscene language, personal attacks of any kind or promotion will be removed and the user banned. Final decision will be at the discretion of the Taipei Times.