Sri Lanka's famed Galle stadium faces stumps
England when they tour in November could be the last team to take on Sri Lanka at their famed Galle stadium, considered one of the world's most picturesque cricket grounds.
This is because the stadium with views of the Indian Ocean could be demolished, because its pavilion stand violates heritage laws protecting a 17th century Dutch fort, the government said.
Sri Lankan Minister of Higher Education and Cultural Affairs Wijeyadasa Rajapakshe on Friday told parliament that the fort risks losing UNESCO World Heritage status because of unauthorized construction, including Galle's 500-seat pavilion.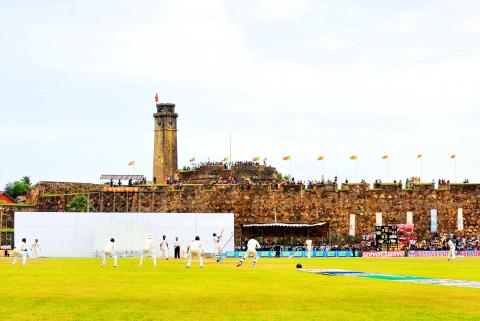 Sri Lanka's Thilan Samaraweera bats in front of a Dutch fort during their Test match against Pakistan at Galle Stadium in Galle, Sri Lanka, on July 6, 2009.
Photo: AFP
The stadium on the south of the island is hallowed among cricket fans the world over, because of its stunning setting and because it is here that the Sri Lankan team is often at its most formidable.
The hosts have won a majority of matches played there since 1998, with the strong winds favoring their wily spinners.
Just last week, Sri Lanka won their first Test against South Africa in Galle by 278 runs with two days to spare, with the Proteas all-out for a record low 73 in the second innings.
Sri Lankan Minister of Sports, Provincial Councils and Local Government Faiszer Musthapha said there would be no immediate demolition.
"We want to maintain the World Heritage status for the fort. We will work out an alternative" for the cricket stadium, he added.
Sri Lankan Cabinet Minister of Project Management, Youth Affairs and Southern Development Sagala Ratnayaka said that UNESCO did not object to the cricket grounds, but wanted unauthorized structures around it removed, including the two-story pavilion.
The building obstructs the view of the fort from the main road.
Sri Lanka's 1996 World Cup skipper, Arjuna Ranatunga, said that authorities could dismantle the pavilion and erect temporary stands when Tests are being played.
"We need to keep both the heritage status for the fort and at the same time play international matches at Galle," Ranatunga said.
A proposal 10 years ago to play day and night matches at Galle — floated while he was the interim head of Sri Lanka Cricket — was shelved, because setting up lights would have violated building codes in the area, he said.
Rajapkshe said that the government plans to build another stadium in Galle, two hours' drive south of Colombo.
Comments will be moderated. Keep comments relevant to the article. Remarks containing abusive and obscene language, personal attacks of any kind or promotion will be removed and the user banned. Final decision will be at the discretion of the Taipei Times.