FIFA WORLD CUP: Germany 'deserved' to crash out: Loew
UNCERTAINTY: The coach said that he would wait a 'couple of hours' before deciding on his future after Germany failed to advance for the first time since 1938
Germany coach Joachim Loew said he felt "huge disappointment" at seeing the holders crash out of the FIFA World Cup, but said they had fully deserved it after they were sensationally beaten 2-0 by South Korea on Wednesday.
The four-time champions needed to beat South Korea by two goals in their final Group F match in Kazan to advance to the last 16.
However, after spurning a series of scoring chances, Germany were stunned in five dramatic stoppage-time minutes as South Korea scored twice to record a historic win over the world's No. 1-ranked team and leave Germany rock bottom of the group.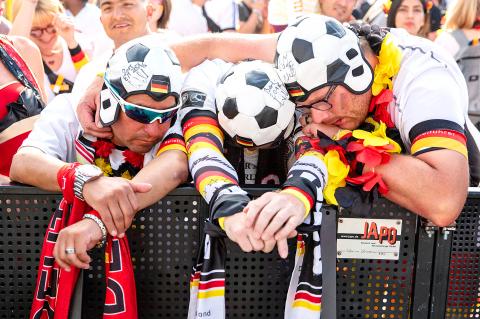 Fans at the public viewing area in front of the Brandenburg Gate in Berlin react in the final minutes of Germany's loss to South Korea in their FIFA World Cup Group F match on Wednesday.
Photo: EPA-EFE
It is the first time Germany have failed to reach the knockout stage of a World Cup since 1938.
"I'm shocked, because we didn't manage to beat South Korea and qualify," Loew said, adding that he would wait a "couple of hours" before deciding on his future.
"The disappointment of us being eliminated is just huge," Loew said. "We didn't deserve to win the title again, we didn't deserve to make the last 16. We tried hard to win, but we never earned the chance to take the lead."
Germany are the sixth holders in history to fall at the first hurdle and their demise came four years after defending champions Spain also failed to make it out of the group stage in Brazil.
Loew's side began their campaign with a 1-0 defeat to Mexico before rekindling their bid with a last-gasp 2-1 win over Sweden.
Sweden won the group on Wednesday after winning 3-0 over Mexico, who also went through.
"First, we need to congratulate our two opponents who made it out of the group," Loew said.
"For us, it's a huge disappointment. At our training camp we prepared well and we came here ready to take on the role of defending champions," he said. "But we didn't play the top-class football we needed to. We created chances against Korea, but we couldn't relax and score the goals we needed."
"Since 2006 we've been among the last four or in the final. This time we didn't perform to a level sufficient to allow us to do that," he added. "We have to admit this is a defeat."
Timo Werner, Marco Reus, Mesut Ozil and second-half substitute Mario Gomez were among the Germany stars who failed to take goal-scoring chances as South Korea defended with determination.
However, South Korea were also dangerous on the counterattack and more than once carved opportunities to keep Germany goalkeeper Manuel Neuer on his toes.
Germany suffered the first of several scares after South Korea won a free-kick on 15 minutes, when Sami Khedira's boot connected with the head of Jung Woo-young. From 30 yards out, it should have been fodder for World Cup-winning Neuer, but he fumbled Jung's dipping drive and scrambled desperately to clear.
After failing to find a way past suberb South Korea goalkeeper Cho Hyun-woo in the second half, Germany could only look on in shock as US referee Mark Geiger called for the video assistant referee to intervene after unmarked Kim Young-gwon bundled a shot past Neuer from a corner early in stoppage-time.
The goal was awarded, because Toni Kroos' touch had played him onside, and minutes later Germany were 2-0 down after Neuer ran up the pitch in a desperate attempt to grab an equalizer.
A long punt upfield saw Tottenham Hotspur forward Son Heung-min chase a clearance to fire into an empty net and South Korea hung on for a famous win that will be a consolation for their own elimination.
Loew said he had not yet reflected on the future.
"How we go from here is something we have to talk about," he said. "It's too soon, but we'll talk about it shortly."
Comments will be moderated. Keep comments relevant to the article. Remarks containing abusive and obscene language, personal attacks of any kind or promotion will be removed and the user banned. Final decision will be at the discretion of the Taipei Times.