Ichiro dons disguise to sit in dugout
Just who was that odd fellow sitting on the Seattle Mariners bench with the bushy mustache, shades and a hoodie?
Wait a second — it was Ichiro!
Now a team executive, Ichiro Suzuki on Thursday donned a Bobby Valentine-style disguise and sneaked into the Seattle dugout to watch a bit of the action at Yankee Stadium.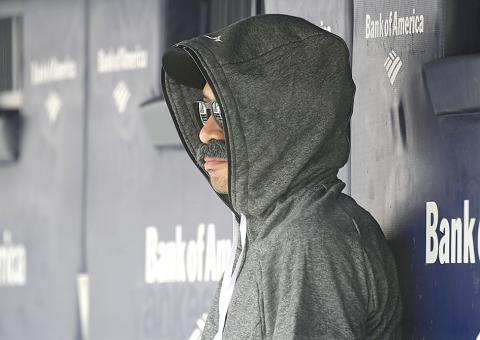 Seattle Mariners chairman's special assistant Ichiro Suzuki wears a fake mustache and hoodie as he sits in the team dugout on Thursday in New York.
Photo: AP
"He was perfect. I never would have known it was him," Valentine texted to reporters.
Officially, Suzuki is not allowed to be in the dugout during games. The 44-year-old outfielder with 3,089 career hits came off the Seattle roster early last month and moved into the team's front office as a special assistant to the chairman.
Suzuki has been taking part in pre-game drills and batting practice in a role similar to a coach, but he is required to leave the bench when games begin, and that is when he (usually) takes his place in the clubhouse.
This time, in a ballpark where he played for parts of three seasons, Suzuki got a much closer look.
Suzuki sat in the middle of the dugout in the back row and occasionally crouched down while the Yankees swung away.
He was gone by the second inning of Seattle's 4-3 loss that completed a New York sweep.
The 10-time All-Star has not officially retired and there is speculation the Japanese great might play when the Mariners open next season in Tokyo with a two-game series against Oakland.
On the day it was announced Suzuki was moving into his new position, he predicted this might happen.
"During the game I will be doing the same preparations I've been doing the entire time. Nothing is going to change for me that I did as a player," Suzuki said at the time. "But I can't say for certain that maybe I won't put on a beard and glasses and be like Bobby Valentine and be in the dugout."
In 1999, Valentine was ejected from a game he was managing for the New York Mets. He was tossed in the 12th inning, but soon put on a fake mustache and sunglasses and returned to the dugout in disguise.
Valentine was later suspended for two games and fined US$5,000.
The longtime manager liked Suzuki's creativity.
"One of the biggest honors of my life," Valentine said. "I was going to send him a set, but he didn't need it."
Comments will be moderated. Keep comments relevant to the article. Remarks containing abusive and obscene language, personal attacks of any kind or promotion will be removed and the user banned. Final decision will be at the discretion of the Taipei Times.