Former sports star Rodman weeps on sidelines of Trump-Kim summit
Former US basketball star Dennis Rodman wept during an interview in Singapore on Tuesday as he discussed unprecedented talks between the North Korean and US leaders in the city-state aimed at trying to end a nuclear standoff.
Rodman, who is one of a handful of Westerners to have visited reclusive North Korea and met Kim Jong-un, arrived in Singapore on Monday, the eve of the summit, saying that he was "excited to be part of it."
He was spotted by Reuters on Tuesday sitting by the pool and smoking a cigar at a hotel just over 200m from another hotel where Kim and the North Korean delegation were staying. He declined to comment on whether he planned to meet Trump or Kim.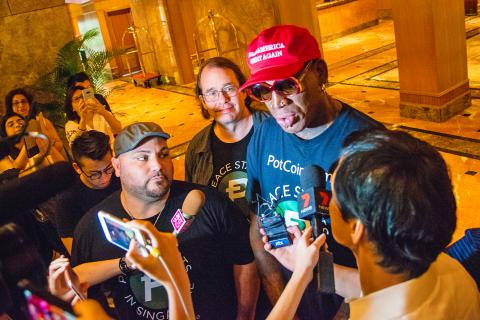 Retired NBA basketball player Dennis Rodman, center right, speaks to the media in the lobby of the Regent Hotel in Singapore yesterday.
Photo: EPA-EFE
There had been no indication that Rodman would be involved in the official talks at the summit.
In an interview with CNN on Tuesday, Rodman said: "It's a great day. I am here to see it. I'm so happy," wiping away tears from beneath a large pair of black sunglasses.
Trump, asked last week if Rodman had been invited to Singapore, said: "No, he wasn't."
Rodman most recently travelled to North Korea a year ago as a private citizen.
This trip, like the previous one, was sponsored by potcoin.com, the cryptocurrency provider for the legal marijuana industry, Rodman said on Twitter.
Rodman has faced ridicule and criticism for his trips to North Korea, which some U.S. politicians and activists view as serving only as fodder for North Korean propaganda.
His earlier visits to North Korea included a basketball game that he organized, an event chronicled in the documentary film Big Bang in Pyongyang, which featured Rodman singing Happy Birthday to Kim, as well as scenes of inebriated and erratic behavior by the basketball Hall of Famer.
Comments will be moderated. Keep comments relevant to the article. Remarks containing abusive and obscene language, personal attacks of any kind or promotion will be removed and the user banned. Final decision will be at the discretion of the Taipei Times.