Cavs edge Raptors 113-112 in overtime
'FORTUNATE': Teamwork helped Cleveland overcome what James described as one of his 'worst games of the season,' as did several missed opportunities by Toronto
This time, LeBron James did not have to do it all by himself.
James had 26 points, 13 assists and 11 rebounds for his 21st career playoff triple-double, while J.R. Smith scored 20 points as the Cleveland Cavaliers beat the Toronto Raptors 113-112 in overtime on Tuesday night to win Game 1 of their second-round playoff series.
Kyle Korver scored 19 points, including the go-ahead three-pointer in overtime after Cleveland never led in regulation.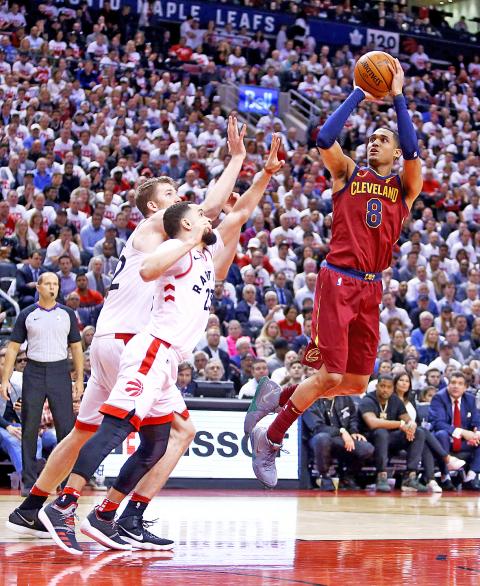 The Cleveland Cavaliers' Jordan Clarkson, right, shoots over the Toronto Raptors' Jakob Poltl, left, and Fred VanVleet in the second half of Game 1 of the NBA Eastern Conference semi-finals at the Air Canada Centre in Toronto on Tuesday.
Photo: AFP
Tristan Thompson had 14 points and 12 rebounds for the Cavaliers, who have eliminated Toronto in each of the past two post-seasons.
"My teammates were unbelievable tonight," James said. "They stepped up when I wasn't at my best."
Jeff Green scored 16 points and Kevin Love had 13 rebounds.
James, who topped 40 points three times in seven games against Indiana in round one, shot 12 for 30 against Toronto, going one for eight from three-point range, calling it "probably one of my worst games of the season."
Still, James came through when it counted, tying the score with two baskets in the final 92 seconds of regulation to complete Cleveland's comeback from a double-digit deficit.
"It got to a one-possession, two-possession game," James said. "That's what I like the most."
Toronto's Fred VanVleet missed a three-pointer with 3.4 seconds to go in overtime that could have won it for the Raptors, who could not hold on after taking a 10-point lead early in the fourth quarter.
"He got a heck of a shot," Raptors guard DeMar DeRozan said. "I'll live with him shooting that shot 10 times out of 10. We got a good look and it just didn't fall."
Jonas Valanciunas had 21 points and 21 rebounds and Kyle Lowry had 18 points and 10 assists, while DeRozan scored 22 points for the Raptors, who host Game 2 on tonight.
The Cavaliers beat the Raptors in six games in the Eastern Conference finals in 2016 before going on to win their first NBA championship. Last year, Cleveland swept Toronto in the second round.
Korver's three-pointer early in overtime gave the Cavaliers their first lead of the game, 108-105.
Lowry's three-point play made it 113-112 with 57 seconds to go and, after the Cavs were called for a shot-clock violation, Toronto had one more chance to win, but VanVleet could not come through.
"We feel good about the win, but I think we were also very fortunate," Korver said.
VanVleet was one of four Raptors to miss in the final seconds of regulation. Toronto got four looks at the potential winning basket, but missed all four, including a wide-open three-pointer by VanVleet, giving Cleveland the ball with 0.6 seconds remaining.
Green inbounded to James, but his shot bounced off the rim.
The Raptors shot five for 24 in the fourth quarter, with Valanciunas missing six of seven attempts. Toronto missed their final 11 shot attempts in regulation.
DeRozan scored 11 points in the first, connecting on five of eight attempts, while Lowry had eight points and five assists as Toronto led 33-19.
James was three of five in the first, but the rest of the Cavs shot four for 18.
James, who averaged more than 41 minutes in Cleveland's first-round series against Indiana, checked out with 3 minutes, 31 seconds left in the first. With James on the bench, the Cavs scored two points the rest of the quarter.
Green and Smith each scored 11 points in the second and the Cavs found their shooting stroke, connecting on 14 of 22 attempts. James had five assists in the period as Cleveland cut the deficit to 60-57 at halftime.
Comments will be moderated. Keep comments relevant to the article. Remarks containing abusive and obscene language, personal attacks of any kind or promotion will be removed and the user banned. Final decision will be at the discretion of the Taipei Times.