Yannick Noah's France dispel 'losing culture' to claim 10th Davis Cup title
Charismatic captain Yannick Noah on Sunday reckoned that the "losing culture" of French men's tennis had been dispelled by the way his team had powered to their first Davis Cup title in 16 years.
One of the major Davis Cup nations, France had lost three finals since 2001, but the return of Noah as captain seemed to have transformed their mindset as they beat Belgium 3-2 to claim their 10th title.
Yet his team also seemed to be have been galvanized by a defiant streak after criticism of what were considered previous failures.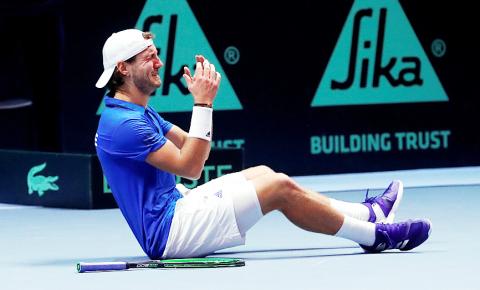 France's Lucas Pouille celebrates winning the Davis Cup after defeating Steve Darcis of Belgium in the Davis Cup final at the Stade Pierre Mauroy in Lille, France, on Sunday.
Photo: Reuters
Lucas Pouille, who bagged the winning point with a 6-3, 6-1, 6-0 thrashing of Steve Darcis, even wondered aloud why reporters would not applaud the team when they walked into the news conference.
"We would have been more applauded if we had lost," Pouille said.
Noah had taken charge in 2015, a year after Les Bleus were defeated in the final by Switzerland, their third consecutive defeat at that stage after losses in 2002 and 2010.
The idea was that one of the nation's favorite sportsmen might recreate the feelgood factor of when he had previously led the team to victory in 1991 and 1996.
"When you don't win for 16 years, everybody is getting used to losing. That losing culture, it was destroying me," Noah said at the news conference.
Unlike his predecessor, Arnaud Clement, who had a much tougher task in 2014 when his team had to tackle Switzerland's Roger Federer and Stan Wawrinka in the final at the same Stade Pierre Mauroy, Noah's men had been expected to deliver against a team so heavily reliant on one player, David Goffin.
"When they got here the Belgians were carefree, while we had something heavy to carry," Noah said.
Pouille, who felt he had proved a point with his decisive win over Darcis after criticism of his opening day loss to Goffin, said: "I'm happy that I played like this after some had buried me on Friday."
The win restored France's reputation as Davis Cup powerhouses as they joined Britain as 10-time winners behind the US (32) and Australia (28).
The team led by Tsonga, have often previously been dubbed the Musketeers, in reference to the Four Musketeers — Jean Borotra, Jacques Brugnon, Henri Cochet and Rene Lacoste — who dominated tennis in the 1920s and 1930s.
However, that did not impress one of the victorious team, Richard Gasquet.
"We never asked to be named the Musketeers, it's grotesque," Gasquet said. "I'm just very happy that we managed to win that competition, we'd been trying to win it for a long time, it's fantastic."
Comments will be moderated. Keep comments relevant to the article. Remarks containing abusive and obscene language, personal attacks of any kind or promotion will be removed and the user banned. Final decision will be at the discretion of the Taipei Times.