Halladay among first to fly plane he died in
The tiny sport plane Roy Halladay was flying on Tuesday when he crashed into the Gulf of Mexico was made for entry-level pilots like him, although the plane's chief designer and test pilot died while flying one earlier this year, officials and experts said.
Halladay, the 40-year-old former Toronto Blue Jays and Philadelphia Phillies pitcher, had been the proud owner for less than a month of his ICON A5, and was among the first to fly it, with only about 20 in existence, the ICON Aviation Web site said.
In one of many enthusiastic tweets about the plane, Halladay said it felt "like flying a fighter jet."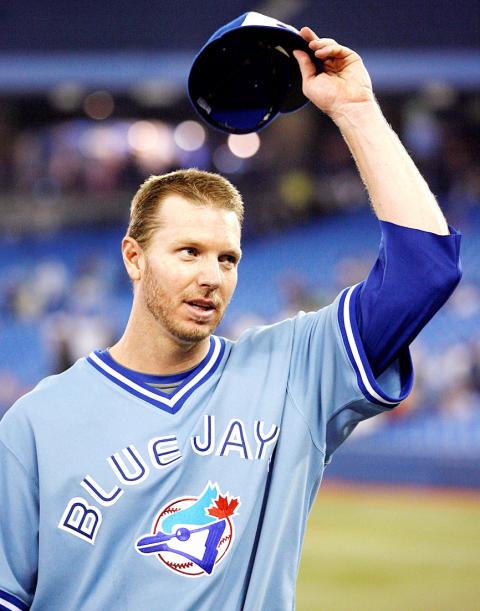 Toronto Blue Jays pitcher Roy Halladay tips his hat to fans after a post-game interview following their MLB game against the New York Yankees in Toronto on Sept. 4, 2009.
Photo: Reuters
Rolled out in 2014, the A5 is an amphibious aircraft meant to be treated like an all-terrain vehicle, a piece of weekend recreational gear with folding wings that can easily be towed on a trailer to a lake where it can take off from the water.
"The way that a lot of people described it is a Jet Ski with wings," Flying magazine editor-in-chief Stephen Pope said. "It's really a plaything."
The man who led the plane's design, 55-year-old John Murray Karkow, died while flying an A5 over California's Lake Berryessa on May 8, in a crash the US National Transportation Safety Board (NTSB) blamed on pilot error.
The board is also to investigate Halladay's crash to determine the cause.
In other tweets, Halladay said he had dreamed about owning one of the planes, and said in video on the company's Web site that he had to talk his wife into letting him get one.
The son of a corporate pilot, Halladay had been forbidden to take up aviation until after his retirement in 2014.
Pope said "the plane itself is great," but he had concerns about Halladay, a new pilot with little flying time, taking the craft out over water at low altitude, though the plane was marketed as a craft that could do that.
"They still think that that's the way the airplane should be flown, and there are people in aviation who completely disagree with that," Pope said. "They think you should not have a low-time pilot flying low over water. That's a recipe for disaster."
Low flying was part of the problem when Karkow, the designer, crashed, according to federal investigators.
Karkow was killed along with passenger Cagri Sever, the company's newly hired director of engineering.
The NTSB said Karkow mistakenly entered a canyon while flying too low, causing the plane to strike the canyon wall.
Another A5 crashed in April, making a hard landing in the water off Key Largo, Florida, injuring the pilot and his passenger. The pilot told investigators the plane descended faster than he expected.
Halladay's ICON A5 went down at about noon off the coast of Florida, Pasco County Sheriff Chris Nocco said.
The sheriff's office marine unit responded and discovered Halladay's body in shallow water near some mangroves. No survivors were found.
Police said they could not confirm if there were additional passengers on the plane or say where it was headed.
ICON Aviation said in a statement that the company would assist the NTSB in every way possible with its investigation, and that its executives and employees are "devastated" by Halladay's death.
"We have gotten to know Roy and his family in recent months and he was a great advocate and friend of ours," the statement said.
Comments will be moderated. Keep comments relevant to the article. Remarks containing abusive and obscene language, personal attacks of any kind or promotion will be removed and the user banned. Final decision will be at the discretion of the Taipei Times.