High scoring an early theme to this season
Maybe it is the three-ball. Perhaps it is all about small ball.
Whatever the reasons, NBA teams have had few problems putting the ball in the basket through the first week of the regular season.
A third of the league is averaging 110 or more, and the Brooklyn Nets became the first team to score 115 in their first four games in 32 years — and they only won half of them, because they were giving up more than 120 a night.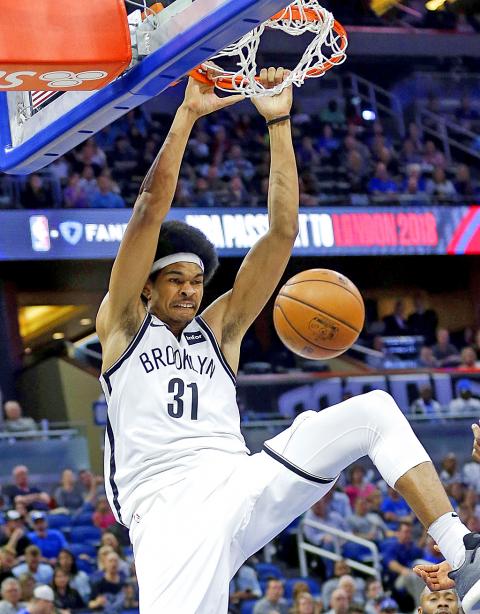 Jarrett Allen of the Brooklyn Nets hangs on the rim after dunking against the Orlando Magic on Tuesday in Orlando, Florida. Orlando won 125-121.
Photo: AP
The floor is open and offenses are flowing with ease.
"The game has changed. Offense has changed in the last 10 years radically just because the players are getting better, they shoot the ball better, offense has opened up, three-point line, everybody shoots now," Houston Rockets coach Mike D'Antoni said. "So the offense has changed radically. Defense traditionally has not changed that much."
It is advantage offense in a big, entertaining fashion.
D'Antoni ran the NBA's most potent offense when he was in Phoenix a decade ago, and in 2006 to 2007, the Suns were the only team to average 110 for the season, finishing at 110.2.
That would have barely cracked the top 10 entering Tuesday's play.
The Nets — yes, the Nets — are leading the way, averaging 123.5 a night.
The system of playing small and firing three-pointers might have been sneered at then, but it is practically becoming the norm now.
"It's hard to keep your bigs in the game now, so there's nobody tall at the rim anymore," Orlando coach Frank Vogel said. "I think that's made offense a lot easier. It's really just kind of a style of play and stylistically teams are playing with more shooting and more guards and more speed and less rim protection around the basket, so it's definitely benefited the offense."
Brooklyn are the first team since the Lakers, Pacers and Pistons in 1985 to 1986 to open with four straight 115-point games.
D'Antoni believes defenses will have to evolve, because "they can't keep up with the offense."
That, NBA fans, is an understatement.
Comments will be moderated. Keep comments relevant to the article. Remarks containing abusive and obscene language, personal attacks of any kind or promotion will be removed and the user banned. Final decision will be at the discretion of the Taipei Times.