Phoenix Suns Hall of Famer Connie Hawkins dies at 75
Hall of Famer and Phoenix Suns star forward Connie Hawkins, who played seven seasons in the NBA, has died at the age of 75.
Hawkins, nicknamed "The Hawk" and a Brooklyn playground legend, played four All-Star seasons with the Suns from 1969 to 1973. He also played for the Los Angeles Lakers and Atlanta Hawks.
The Suns, who retired Hawkins' number 42 jersey, on Saturday announced that he had passed away on Friday.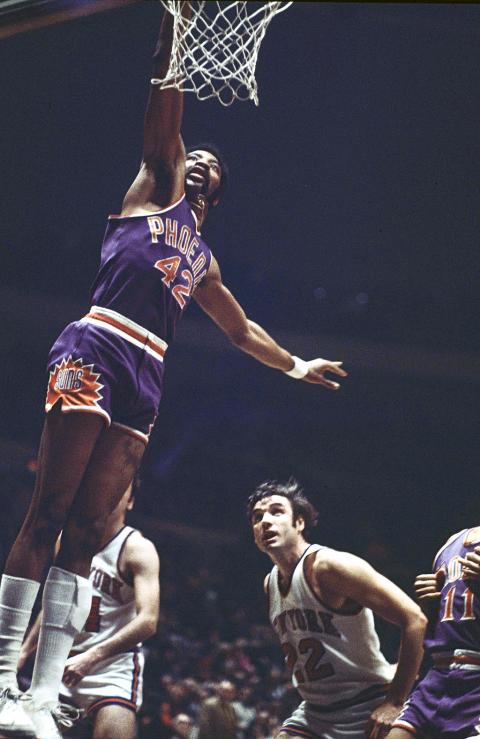 Connie Hawkins of the Phoenix Suns dunks over New York Knicks players in New York on Feb. 16, 1971.
Photo: AP
"'The Hawk' revolutionized the game and remains to this day an icon of the sport and one of basketball's great innovators," the Suns said in a statement. "His unique combination of size, grace and athleticism was well ahead of its time and his signature style of play is now a hallmark of the modern game."
"Connie's passion for the game was only matched by his desire to give back to the Phoenix community, a role which he played proudly as a Suns community ambassador, spreading warmth and kindness to everyone he encountered. We will miss Hawk dearly. Our thoughts and prayers go out to his family and friends as we mourn the passing of a true Suns legend," it added.
Hawkins averaged 16.5 points, 8 rebounds, 4.1 assists and 1.2 steals during his NBA career.
Before joining the NBA at age 27, Hawkins played two seasons in the American Basketball Association, winning the league title and MVP honors with the Pittsburgh Pipers in the 1967 to 1968 season. He also played four seasons with the Harlem Globetrotters in the 1960s.
He became the first Suns player to be enshrined in the Basketball Hall of Fame in 1992.
Comments will be moderated. Keep comments relevant to the article. Remarks containing abusive and obscene language, personal attacks of any kind or promotion will be removed and the user banned. Final decision will be at the discretion of the Taipei Times.