Cubs' bullpen implodes in Game 2 loss to Nationals
Carl Edwards Jr knew the ball was gone as soon as it left his hand. Mike Montgomery was not sure until it went just over the fence.
The sinking feeling was the same for each reliever and the rest of the Chicago Cubs.
Edwards' hanging curveball turned into a tying two-run homer by Bryce Harper and Montgomery's pulled changeup became a three-run shot by Ryan Zimmerman.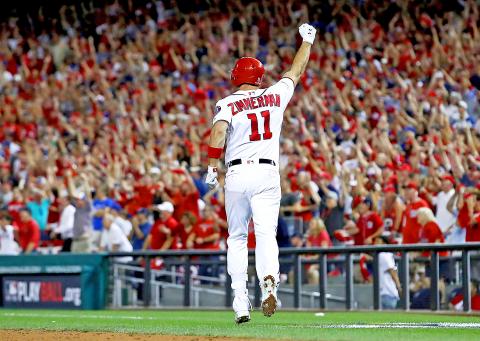 Ryan Zimmerman of the Washington Nationals celebrates his game-winning three-run home run against the Chicago Cubs on Saturday in Washington.
Photo: AFP
The five-run rally in the eighth inning lifted Washington to a 6-3 victory on Saturday, tying the National League Division Series at a game apiece.
"It's frustrating, but when you're going up against good hitters, you've got to make your pitches," Montgomery said. "We had them where we wanted them and we couldn't get the job done late in the game."
The World Series champion Cubs wasted another solid playoff performance by Jon Lester and homers for Anthony Rizzo and Willson Contreras.
Game 3 is today at Wrigley Field in Chicago.
As much as the Cubs could feel the surprising turn of events, the memories of winning the World Series last year crept in not long after.
Rizzo, who became the franchise's all-time post-season leader in home runs and RBIs, said nothing is going to faze his team.
"We've given up way bigger home runs than that before," Rizzo said. "You're not going to knock us down. We gave up a home run to Rajai Davis to tie the game in the eighth inning [in Game 7 of the World Series last year]. It's part of the journey. You've got to embrace it."
DODGERS V D'BACKS
AP, LOS ANGELES
Yasiel Puig's bloop single did not even drive in a run. He still flipped his bat, sprinted to first and triumphantly pointed back at his dugout, where the cheering Los Angeles Dodgers pointed right back while the crowd chanted his name.
Some of baseball's norms just do not apply to the exuberant Puig, or to the Dodgers, who are getting huge offensive contributions from practically every spot in their lineup.
The Cuban slugger is just one purring component of a machine that has the Dodgers on the brink of an even bigger celebration.
Japanese pitcher Kenta Maeda got the victory by getting three outs of middle relief. The right-hander did not make the Division Series rotation, but Roberts plans to use the 13-game winner as a specialist against right-handed batters.
Puig had three hits and drove in two runs, Austin Barnes added a key two-run double and the Dodgers used another relentless hitting performance to beat the Arizona Diamondbacks 8-5 on Saturday night for a 2-0 lead in the series.
The Dodgers have the majors' biggest payroll, but their offense is coming from players of all salaries and pedigrees. Even when the heart of the Dodgers' order produced little in Game 2, their sixth, seventh and eighth hitters — Forsythe, Barnes and Puig — were spectacular.
"We've got a lot of good players and a lot of depth," Dodgers manager Dave Roberts said. "There are so many guys in our lineup that can hurt you."
The trio reached base a combined nine times, and Los Angeles turned an early 2-0 deficit into a 7-2 advantage with three rallies, capped by a four-run surge in the fifth.
Game 3 is today at Chase Field in Phoenix.
Comments will be moderated. Keep comments relevant to the article. Remarks containing abusive and obscene language, personal attacks of any kind or promotion will be removed and the user banned. Final decision will be at the discretion of the Taipei Times.