Top IOC member wants 'teeth' put into investigation
International Olympic Committee (IOC) member Dick Pound wants his organization to act with "more teeth" in response to an alleged vote-buying scheme to land last year's Rio de Janeiro Olympics.
Pound said the Olympic body is taking "hit after hit in the eyes of the world."
Carlos Nuzman, an IOC member who headed the organizing committee for Rio, was held for police questioning this week.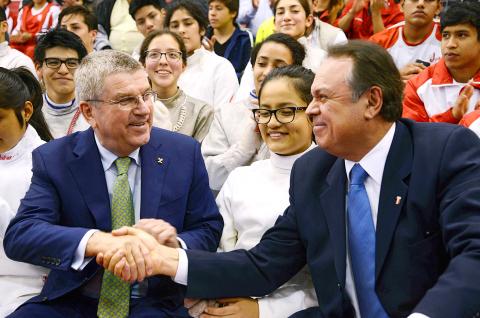 International Olympic Committee president Thomas Bach, left, shakes hands with Peru Olympic Committee president Pedro Del Rosario in Lima on Friday.
Photo: AFP
The graft inquiry could overshadow the IOC meetings in Lima next week, where the Summer Games are to be awarded to Paris for 2024 and to Los Angeles for 2028.
Pound, a Canadian and the longest-serving IOC member, called the scandal surrounding Nuzman "a mess" and suggested the Brazilian should be asked to give up his membership.
"We need some more teeth in this because we are taking hit after hit in the eyes of the world and we're not seen to be doing anything," Pound told reporters. "In fact, we probably aren't doing much other than waiting to see if somebody else tells us that one of our member is offside — or several members are offside."
The IOC has said it was waiting to be "fully informed" before it acts on Nuzman.
"The IOC is very committed to the integrity of our organization," IOC president Thomas Bach said. "This is why we are taking this seriously and we are watching it closely."
"The IOC will take all appropriate measures and sanctions where evidence is provided," Bach said.
Nuzman was detained by police on Tuesday in Rio de Janeiro.
French and Brazilian authorities say he was a central figure in channeling US$2 million to Lamine Diack through a Caribbean account held by his son, Papa Massata Diack.
Lamine Diack is a former IOC member from Senegal who was a force in the IOC's African bloc.
The widening case has also implicated four-time Olympic medalist Frank Fredericks.
The former sprinter from Namibia has said a US$300,000 payment he received from Diack's son on the day Rio won the vote was for legitimate consultancy work.
Fredericks, an IOC member, lost his place on an IOC inspection team to visit Paris and Los Angeles.
He has denied wrongdoing, and the IOC says it respects the "presumption of innocence."
News reports in Brazil said police found US$150,000 in cash in Nuzman's home in Rio, reportedly divided into five currencies.
His passports were also seized.
Comments will be moderated. Keep comments relevant to the article. Remarks containing abusive and obscene language, personal attacks of any kind or promotion will be removed and the user banned. Final decision will be at the discretion of the Taipei Times.