Reliever Rosenthal gets save for Cards
BALL TO THE HEAD: Arizona pitcher Robbie Ray left the game after being struck in the head from a hit by Luke Voit, with the ball bouncing away into foul territory
It has been a week of firsts for St Louis reliever Trevor Rosenthal.
On Tuesday, he earned his first two-innings win in a 3-2 victory over Colorado.
Against Arizona on Friday, Rosenthal pitched the final two innings for his first two-innings major league save as St Louis defeated the Diamondbacks 1-0.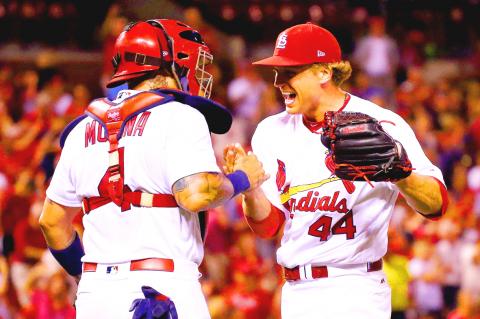 St Louis Cardinals relief pitcher Trevor Rosenthal, right, celebrates with catcher Yadier Molina after their win over the Arizona Diamondbacks at Busch Stadium in St Louis, Missouri, on Friday.
Photo: AFP
"I think I'll probably start next week," Rosenthal said, laughing.
Arizona starter Robbie Ray left the game in the second inning after getting hit in the head by a line drive off the bat of rookie Luke Voit.
Against Brett Cecil in the eighth, the Diamondbacks put runners on second and third with a single and double.
Arizona Diamondbacks pitcher Robbie Ray clutches his head after being hit by a ball during their game against the St Louis Cardinals in St Louis, Missouri, on Friday.
Photo: AP
Enter Rosenthal.
"Obviously, it's the heart of the lineup and it's a tough spot," Rosenthal said. "Anything can happen, good or bad. I needed to keep focused and make good pitches and then it might work out for us."
It did.
He struck out A.J. Pollack. With the infield in, David Peralta grounded to second and Kolten Wong, who entered in the seventh as a pinch runner, cut down Ketel Marte at home. Arizona challenged and lost the replay.
"Once it goes to review, they examine the whole play, whether it's blocking the plate or whether there was a tag," Arizona manager Torey Lovullo said. "It was close enough for us, but obviously it didn't go our way."
Rosenthal ended the inning by striking out Paul Goldschmidt. That was his fifth strikeout in nine career at-bats versus Rosenthal.
Rosenthal had a 1-2-3 ninth to close it out for his fifth save.
"It was a lot fun," Rosenthal said.
St Louis starter Michael Wacha was impressed.
"That was a big-time save right there," Wacha said.
"He came in and didn't allow a single run. He really beared down and competed out there," he said.
When the ball hit Ray, it caromed in the air into foul territory where third baseman Daniel Descalso caught it for the out.
Ray lay prone on the mound for several minutes before sitting up with his teammates surrounding him. He was driven off the field on a cart and was taken for an examination.
Lovullo later said Ray was doing well and would be put in concussion protocol.
"Thank goodness everything came out OK," Lovullo said. "He went and had a CT scan and everything checked out in a very good way. He had three sutures put in to close up the wound.
"He's going to go through the MLB concussion protocol so we'll have more in the coming days about what we're going to do," he said.
Lovullo said Ray never lost consciousness.
In other games on Friday, it was:
‧ Red Sox 4, Royals 2
‧ Rangers 8, Orioles 2
‧ Astros 6, Tigers 5
‧ Yankees 6, Rays 1
‧ Brewers 2, Cubs 1
‧ Marlins 7, Reds 4
‧ Phillies 10, Braves 3
‧ Angels 7, Blue Jays 2
‧ Indians 9, White Sox 3
‧ Twins 6, Athletics 3
‧ Mets 7, Mariners 5
‧ Padres 3, Pirates 2
‧ Dodgers 6, Giants 4
‧ Nationals, Rockies postponed
Comments will be moderated. Keep comments relevant to the article. Remarks containing abusive and obscene language, personal attacks of any kind or promotion will be removed and the user banned. Final decision will be at the discretion of the Taipei Times.