Universiade soccer pitch lights fail at test matches
Floodlight installed at Fu Jen University-Hang Yuan's artificial turf pitch for the Universiade in August failed on Friday during a match between the Royal Blues and National Sports Training Center (NSTC) due to a power outage in the 52nd minute of the second half, CTFA officials said.
The pitch remained in darkness for more than an hour while work crews repaired electrical circuitry, before the match could resume.
However, eight minutes after play resumed, the lights went out again and needed further repairs before the Royal Blues took a 4-2 victory.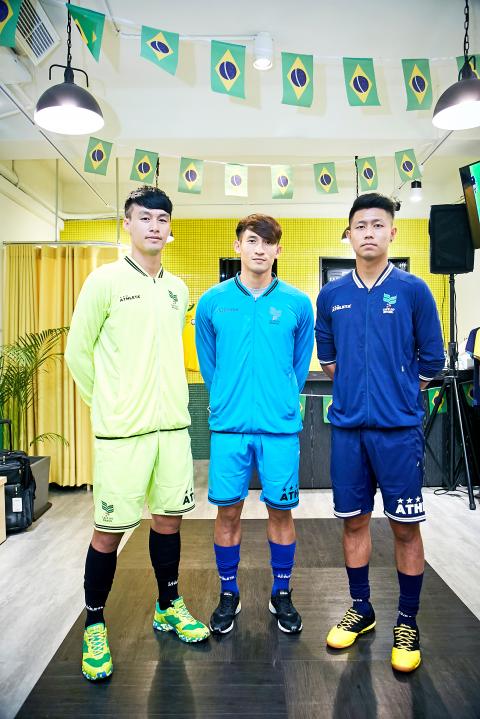 Team Taiwan players and CTFA officials attend the advance opening of soccer fashion store Athleta in Taipei on Saturday.
PHOTO: CTFA
"It is good that we tested out the floodlights and found the problem. Hopefully all the shortcomings can be fixed before the Universiade. However, the lights are not bright enough, so this has to be improved," Taipower coach and former national team manager Chen Kuei-jen said.
"We can get the lighting to work, but the spectator stands were not finished. This is a half-done job.... Supporters cheering the action can spur teams to play better. I hope the stands are finished so people can watch the games in relative comfort," Chen said.
Taiwan's top soccer league tightened up this weekend when Taipei-based Tatung blanked Tainan City 3-0 to move within three points of leaders Kaohsiung-based Taipower, who were held to a scoreless draw by Fu Jen University-Hang Yuan.
Taipower is on 46 points after Friday's 0-0 tie, with Tatung in close pursue after 18 games played in the second half of the season of the semi-professional Taiwan Football Premier League (TFPL).
Fu Jen University yesterday enjoyed a home-field advantage to beat Tainan City 7-2.
NSTC remained in third place on 34 points after fighting to a 1-1 draw against Ming Chuan University, while the expatriate team Royal Blues won for their third game in a row, defeating the Taichung-based Taiwan Sports University 2-0.
The Royal Blues on Friday doubled up on NSTC 4-2, and in the previous round in final week of May prevailed over Ming Chuan University 1-0, consolidate their No. 5 position with 24 points, behind NSTC on 31 points.
NSTC powered to a 3-0 triumph, while the second match saw Tatung shut out Tainan City 3-0.
Meanwhile, Brazilian football clothing brand Athleta on Saturday opened its flagship store in Taipei, with national team players and CTFA officials at the ceremony.
"It's great to see Athleta making inroads into Taiwan, which they see as a growing market for soccer. Our national team's win over Singapore in the recent AFC Cup qualifier match shows we are making progress. This victory is very important for Taiwanese fans and it has boosted the confidence of the players," CTFA secretary-general Chen Wei-jen said.
"Athleta believes in Taiwan's potential for soccer development and they can also bring in Brazil's samba soccer and the stylish sportswear of Brazilian soccer stars to our nation," he added.
Comments will be moderated. Keep comments relevant to the article. Remarks containing abusive and obscene language, personal attacks of any kind or promotion will be removed and the user banned. Final decision will be at the discretion of the Taipei Times.