Philly supporters provide popular NFL draft boos
The City of Brotherly Love turned a boring event into an entertaining show.
About 100,000 vocal fans gave everyone what they wanted and expected from Philadelphia: Boos.
Tired of hearing about tossing snowballs at Santa Claus 49 years ago or how they cheered Michael Irvin's career-ending injury in 1999, Philly fans let everyone have it during the second and third rounds of the NFL draft on Friday.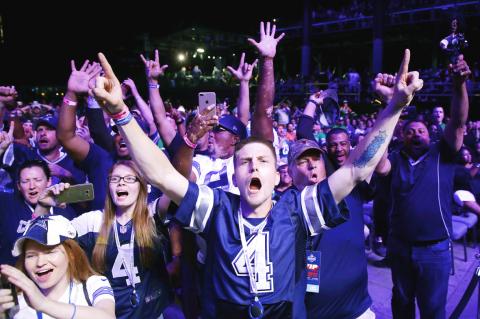 Dallas Cowboys fans cheer at the NFL draft in Philadelphia on Friday.
Photo: AP
They booed NFL commissioner Roger Goodell, of course, whenever he popped on stage. They jeered Cincinnati's selection of Oklahoma running back Joe Mixon and even Cleveland's pick of Notre Dame quarterback DeShone Kizer.
However, former Cowboys receiver Drew Pearson stole the show and earned the loudest boos of all.
He said Goodell encouraged him to talk about the Dallas Cowboys-Philadelphia Eagles rivalry, beginning with: "How 'bout them Cowboys!"
He then trolled fans by thanking them "for allowing me to have a career in the NFL" and bragging about the "five-time world champions."
Pearson pumped his fist and screamed over the boisterous crowd to announce Dallas' second-round pick: Colorado cornerback Chidobe Awuzie.
"It was fun," Pearson said.
After that, it seemed every team representative tried to incite louder boos.
Former Redskins linebacker London Fletcher told fans he expected more "for as many hits as I put on your running backs and receivers."
Fletcher ended by proclaiming: "Hail to the Redskins!"
NFL executive vice president Troy Vincent, a former Eagles All-Pro cornerback, jokingly waved him off the stage.
Former Giants linebacker Jessie Armstead raised both fists in the air to show off two Super Bowl rings. So he heard it, too.
Almost every pick that was not related to the Eagles got booed.
An estimated crowd of 100,000 people gathered on Thursday and many were back for the second night.
They turned the Art Museum area into a giant tailgate party, chanting "E-A-G-L-E-S!" and singing Fly, Eagles, Fly.
Eagles long snapper Jon Dorenbos drew a rousing ovation when he announced the team's third-round pick and declared Eagles fans were the best in the country.
They also cheered when the team selected injured Washington cornerback Sidney Jones in the second round.
The Huskies secondary saw three members — cornerbacks Kevin King and Jones, and safety Budda Baker — taken in the first 11 picks.
King, one of five players who were on hand and were not taken in the opening round, went to Green Bay with the first pick of the night and talked about learning from Packers quarterback Aaron Rodgers and wanting to earn a Hall of Fame jacket.
Comments will be moderated. Keep comments relevant to the article. Remarks containing abusive and obscene language, personal attacks of any kind or promotion will be removed and the user banned. Final decision will be at the discretion of the Taipei Times.