Chen Wei-yin gets first hit in majors
'ICHIRO AURA': The Taiwanese pitcher had not reached base in 57 previous at-bats and said that a bat change and maybe Ichiro Suzuki's presence played some part
Taiwan's Chen Wei-yin sent a slow roller toward shortstop. When Asdrubal Cabrera picked up the ball on the infield grass and realized there was no point making a throw, the pitcher crossed first base with his first major-league hit after an 0-for-51 start at the plate.
"I think this is the fastest I ever ran as a hitter to first base," Chen said through a translator.
"They were just congratulating me and also giving me high fives," he said. "We joked about it and talked about it. It's kind of special to have my first hit as an infield hit."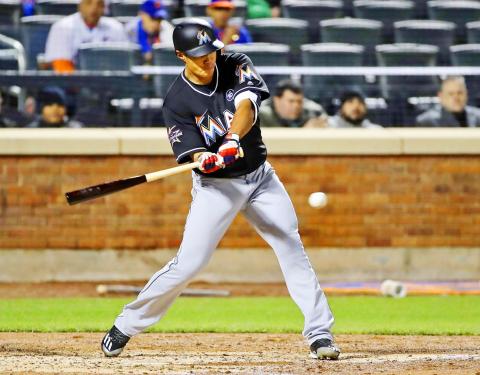 The Miami Marlins' Chen Wei-yin of Taiwan hits a single against the New York Mets in New York on Friday.
Photo: AP
Chen also got the win, giving up one run and seven hits over six innings on Friday night to lead the Miami Marlins over the New York Mets 7-2.
"I think I was more happy about the hit than the win," Chen said.
Chen had the longest hitless streak at the start of a big-league career since Jon Lester's 0-for-66 slide and the fourth-longest for players who debuted in 1900 or later, according to the Elias Sports Bureau.
He also trailed Joey Hamilton (0 for 57) and Ron Herbel (0 for 55).
At first, Chen was not sure he had recorded a hit.
First-base coach Perry Hill broke the news.
"I thought it may be an error. Bone told me: No, it was a hit," Chen said, referring to the coach by his nickname. "I was really excited, so I didn't really know what's going on out there."
Teammates in the third-base dugout raised their arms in triumph. Chen stuck out his tongue. The Marlins saved the ball for him.
Chen had not reached base in all 57 of his previous big-league plate appearances. He had been using a bat model of late Marlins pitcher Jose Fernandez, but switched to lumber of teammate Dee Gordon, the 2015 National League batting champion.
"I want to use your bat," Gordon recalled Chen telling him. "Like, cool. I always let pitchers use my bat."
Chen acknowledged Gordon's contribution.
"Yes, it had something to do with his bat," he said. "I don't know how to explain it. It may have had something to do with [teammate] Ichiro [Suzuki] sitting beside me. Maybe he brought me the aura of the hit."
The ball came off the bat at 65mph (105kph), according to Major League Baseball's Statcast. The hit came against Zack Wheeler, who returned from Tommy John surgery to make his first major-league appearance since September 2014.
"We don't have to talk about that anymore," Marlins manager Don Mattingly said.
Chen had just six at-bats in his first four big-league seasons with Baltimore, then signed an US$80 million, five-year contract with the Marlins before last season.
Derek Dietrich hit a go-ahead, two-run triple in a three-run second inning and Christian Yelich had a two-run homer in the third off Wheeler (0-1) on a raw, blustery and cool night. Marcell Ozuna and Dietrich added RBI singles in the fifth against Josh Smoker.
Comments will be moderated. Keep comments relevant to the article. Remarks containing abusive and obscene language, personal attacks of any kind or promotion will be removed and the user banned. Final decision will be at the discretion of the Taipei Times.