Indians bullpen stars in win over Jays
MIRACLE REQUIRED: The Toronto Blue Jays fell to 0-3 deficit in the series and they faced a daunting task in Game 4 against Cleveland Indians ace pitcher Corey Kluber
When blood began dripping from Cleveland Indians starter Trevor Bauer's pinkie, manager Terry Francona went to his first-aid cabinet, using six relievers to patch together a 4-2 win over the Toronto Blue Jays to sit one win away from a trip to the World Series.
After two tight losses in Cleveland, Blue Jays fans could be forgiven for believing fate was on their side when Bauer failed to make it out of the first inning with blood streaming from his little finger down his leg and forming a puddle on the mound.
A self-described "big nerd" with a fascination for drones, Bauer, who studied mechanical engineering at UCLA, forced Francona into making several band-aid moves when he got whacked on his pitching hand playing with one of his fleet of drones on Friday last week and required 10 stitches to close the gash.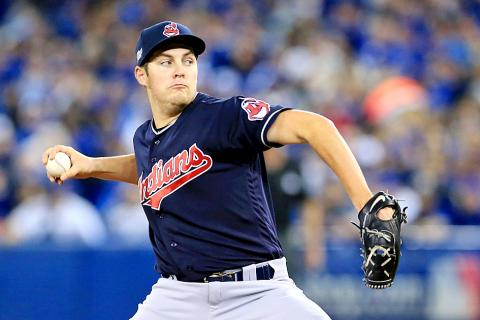 Trevor Bauer of the Cleveland Indians throws a pitch against the Toronto Blue Jays in the first inning of Game 3 of the American League Championship Series at the Rogers Centre in Toronto, Ontario, on Monday.
Photo: AFP
Francona had hoped to get at least a couple of innings out of his starter, but instead had to settle for a couple of outs.
"When I went out there the first thing I saw was blood on the rubber," Francona said. "I figured that wasn't a real good sign that things were going well. That wasn't the way we drew it up, but about our bullpen, that's one of the most amazing jobs I've ever seen. I mean, starting with [Dan] Otero to [Jeff] Manship to [Zach] McAllister to [Bryan] Shaw, if anybody has a hiccup we probably lose."
The situation was dire enough for the Blue Jays going into Game 3 of the best-of-seven American League Championship Series.
Only three times in a League Championship Series had teams fought back to erase such a deficit and move on to the World Series, but climbing out of a 3-0 hole like the Blue Jays find themselves in requires a near miracle.
The Red Sox are the only team to have pulled off the ultimate great escape when they beat the Yankees in 2004 on their way to winning their first World Series in 86 years.
"They shut us down. They did a great job going through a number of guys and did a good job shutting us down," Blue Jays manager John Gibbons said. "I had a good feeling at the end, it didn't happen, but we'll show up tomorrow. It's definitely a daunting task, but it's been done before."
Not very often.
Making a daunting task even more challenging if the Blue Jays are to extend the series they need to do it against Indians ace Corey Kluber, who was due to be on the rubber for Game 4 yesterday.
After sweeping the Red Sox in the American League Division Series, if the Indians can complete another sweep it would put them back in the World Series for the first time since 1997 and give them the chance to win their first Fall Classic in 68 years.
Comments will be moderated. Keep comments relevant to the article. Remarks containing abusive and obscene language, personal attacks of any kind or promotion will be removed and the user banned. Final decision will be at the discretion of the Taipei Times.