Fuming Hamilton seeks solace as Suzuka looms
Lewis Hamilton needs to find some Zen-like mind control in Japan this weekend after a engine fire left the world champion fuming in Malaysia.
Hamilton angrily demanded an explanation from his Mercedes team after his hopes of halting Nico Rosberg's surging momentum went up in smoke on Sunday, allowing Daniel Ricciardo to lead Red Bull's first one-two in nearly three years.
As Rosberg opened a 23-point advantage in the title standings with five races remaining following his third-place finish, Hamilton raged at his misfortune and threatened to ignite a row within the Mercedes team by raising the possibility of a conspiracy against him.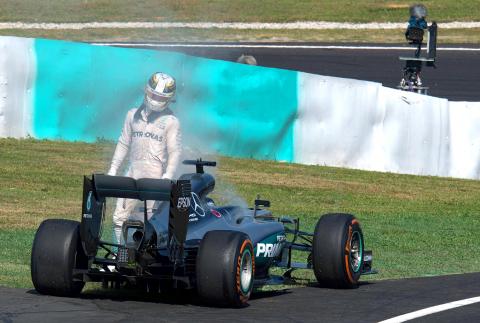 Mercedes driver Lewis Hamilton looks at his car after his Malaysian Grand Prix ended in an engine fire at Sepang on Sunday.
Photo: AFP
"My questions are to Mercedes," the Briton said after Sepang, asking why of the eight cars on the grid fitted with Mercedes engines, only his have conked out this season.
"There are eight drivers and mine are the only ones who has failed," he said. "Someone has to give me some answers and it is not acceptable. Someone doesn't want me to win this year."
Hamilton has only a matter of days to dust himself down in a quick turnaround before Japan, but he can seek solace in the fact he has won in Japan three times and will be chasing a hat-trick of wins — and the 50th of his F1 career — at Suzuka.
Mercedes team principal Toto Wolff called Hamilton's engine trouble "a freaky coincidence" and promised to fix the gremlins.
"Our guys will get to the bottom of what happened and learn from it," he said. "There is no rational explanation or pattern in these failures. We pick ourselves up, brush the dust off and look ahead to the next race."
Hamilton later composed himself.
"Last weekend was a massive disappointment, but there's no use dwelling on these things — that's just negative energy," he said yesterday. "I will find strength from within to fight back over these next five race weekends."
During a turbulent weekend in Malaysia, Hamilton had also moaned about the "psychological effects" of breaking up his title-winning crew by switching five mechanics to Rosberg's side of the garage.
Wolff took a dim view of Hamilton's renewed criticism of a Mercedes decision taken at the start of the season.
"No footballer would tell [Premier League soccer managers] Jose Mourinho or Pep Guardiola who he'd like to play with," he snapped. "It's the manager's call to decide who is in the squad."
After a year plagued by technical gremlins, time is running out for Hamilton to quash Rosberg's attempt to dethrone him as champion in 2014 and last year.
The German, who had overhauled Hamilton in the title race after three straight wins, is in the form of his life and fought back brilliantly to finish third in Malaysia following a first-corner collision with Sebastian Vettel's Ferrari.
Ricciardo will be looking to build on his first victory in two years, insisting the Red Bull cars can pose a threat in what is forecast to be a wet race in Japan.
"I actually think we will be more competitive at Suzuka," said the Australian, who came home ahead of 19-year-old teammate Max Verstappen at Sepang. "In the rain we could be very strong. If it rains I believe we can win the race. If it's dry, Mercedes would be favorites."
Comments will be moderated. Keep comments relevant to the article. Remarks containing abusive and obscene language, personal attacks of any kind or promotion will be removed and the user banned. Final decision will be at the discretion of the Taipei Times.