Encarnacion smashes winning homer
METEOR? A fan allegedly threw a can at a Baltimore player, but missed, while just outside the ground, police said that a meteor might have landed in Lake Ontario
Edwin Encarnacion smashed the winning home run as the Toronto Blue Jays downed the Baltimore Orioles 5-2 in an 11-innings thriller to win their American League wildcard duel at the Rogers Centre in Toronto on Tuesday.
Dominican star Encarnacion homered to left field off Ubaldo Jimenez for a three-run score to send Toronto into an AL Division Series against the Texas Rangers.
It was a dramatic end to a nerve-jangling game that saw controversy in the seventh inning when a fan allegedly threw a can onto the field as Baltimore outfielder Kim Hyun-soo caught the final out.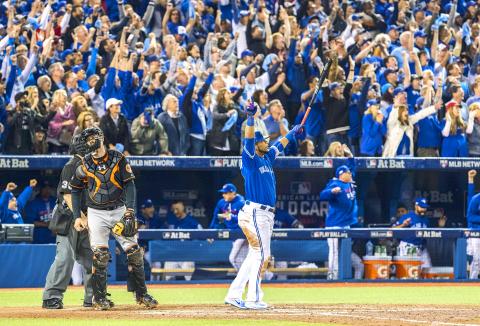 The Toronto Blue Jays' Edwin Encarnacion, right, celebrates after hitting a walk-off three-run home run against the Baltimore Orioles at the Rogers Centre in Toronto, Canada, on Tuesday.
Photo: AP
With the score tied 2-2, pinch hitter Melvin Upton Jr flied out to the track in left. Kim made the catch, despite the can narrowly missing him as it came out of the stands behind him.
The incident drew a furious response from Baltimore players, with center fielder Adam Jones angrily gesticulating into the stands.
Baltimore manager Buck Showalter also stormed out of the dugout to left field to voice his disgust with the umpiring crew before returning. As the tension mounted, the final inning became a question of who would blink first.
"That is about as pathetic as it gets. You don't do that. Yell, cuss or scream," Jones said after the game. "I hope they find the guy and press charges."
"That's not a part of baseball," he said. "Throw an octopus, throw hats."
It was not clear whether the fan was ejected.
"Something like that should never happen. It's the first time for me and hopefully the last," Kim said through an interpreter.
Baltimore left-hander Brian Duensing struck out Ezequiel Carrera to launch the bottom of the 11th before being replaced by Jimenez.
It was a nightmare performance for Jimenez, who conceded singles to Devon Travis and Josh Donaldson to leave the Blue Jays with runners on the corners.
With the home crowd roaring them on, Encarnacion then settled a pulsating battle with his three-run homer to keep the Blue Jays' post-season alive.
"I had a good feeling all through the game even," Blue Jays manager John Gibbons said. "It's a close ballgame. If they win that game, they deserve it, too. It was such a well-played game on both sides. Could have gone either way... Eddie came through for us."
Orioles manager Buck Showalter defended his decision not to use closer Zach Britton in the 11th inning.
"Yeah, I considered a lot of things during the course of the game, but our guys did a good job getting us to that point," Showalter said. "We just couldn't finish it off."
"You can use Zach Britton in the seventh, the eighth and not have anybody to pitch the last inning," he said. "So there's a lot of risk taken every inning, every pitch. You take that one when you get in this format."
Earlier, Orioles starter Chris Tillman gave up four hits, one walk and two runs while striking out four in just over four innings.
Marcus Stroman for the Blue Jays allowed four hits and two runs with six strikeouts in six innings.
Jose Bautista had hit a solo home run for Toronto, while Baltimore's scoring came from a two-run homer by Mark Trumbo.
The Blue Jays face Texas in Game 1 of the division series today.
Meanwhile, fans in the north end of SkyDome beyond the outfield walls on Tuesday night tweeted about seeing a meteor shower south of the stadium.
Police and firefighters responded to 911 calls about a possible plane crash in Lake Ontario, just blocks from the ballpark.
Police spokeswoman Natasha Zver said scores of emergency personnel searched the waters, ruled out a plane crash and said they think it was a meteor.
Comments will be moderated. Keep comments relevant to the article. Remarks containing abusive and obscene language, personal attacks of any kind or promotion will be removed and the user banned. Final decision will be at the discretion of the Taipei Times.