Yaki Yen quits national soccer squad
Taiwanese-Spanish soccer player Yaki Yen on Wednesday announced his decision to quit Taiwan's national squad, saying that as long as Satoshi Imai remains the head coach, he will not play in a national uniform.
Yen made the announcement on his Facebook page and expressed disappointment that he was not picked to represent Taiwan in the upcoming East Asia Cup qualifiers, where Taiwan is scheduled to face East Timor in two games early next month.
"I love Taiwan, and really want to play for the national squad, but the coaching staff are opinionated against me," he said. "I want to inform the public that I will not play for the national squad as long as this unprofessional Japanese head coach is on the job."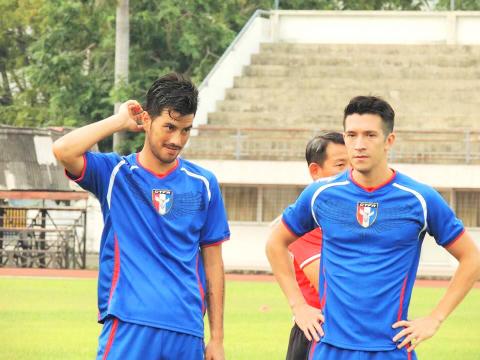 Taiwanese-Spanish soccer player Yaki Yen, left, is pictured in an undated photograph.
Photo courtesy of YaKi Yen's Facebook page
"I want to say sorry to the fans, that I could not contribute to Team Taiwan this time," he added.
Yen was born to a Taiwanese father and a Spanish mother in Las Palmas, the Canary Islands, and played with UD Fuerteventura in Spain's third division.
He obtained his Republic of China (ROC) citizenship in 2005 and made his national squad debut against Iraq on Sept. 9 last year.
Yen is currently playing for Changchun Yatai in the Chinese Super League.
When asked by reporters yesterday to further explain his decision to quit the national squad, Yen said that Imai showed him disrespect and had played him out of position starting with the international match against Cambodia in June.
"The head coach selected me to start for that home game in Kaohsiung, but he put me in the rightback position, but my best position, and the one I am most familiar with, is fullback," he said. "I felt Imai was not respectful of the players. It was my patriotic duty to give my best efforts for the team at that match."
Yen said he was dropped from the squad for an away game with Cambodia five days later, adding that he accepted a media interview prior to a home game and that might have started the friction with Imai.
"A good head coach must use his brain to manage, and not his emotions," he said. "I see him as an unprofessional coach, and I have decided to quit the squad as long as Imai is in charge of the national team."
The Chinese Taipei Football Association yesterday issued a statement in response to Yen's decision to quit the squad, saying: "We stand by the head coach's decision and his right to pick players for the team roster."
"The head coach is the one who is responsible for wins or defeats by the national squad, and he is in charge of selecting players who are suitable for his style, and those who are not suited for the game... We respect the words expressed by Yaki [Yen]," it added.
Comments will be moderated. Keep comments relevant to the article. Remarks containing abusive and obscene language, personal attacks of any kind or promotion will be removed and the user banned. Final decision will be at the discretion of the Taipei Times.