RIO OLYMPICS: Michael Phelps still No. 1 in the pool
BLACK HAT: The US swimmer wore a teammate's cap after tearing his own, with the first swimmer handing over his attire while the second leg was being swum
In an unforgettable display of Olympic power, Michael Phelps won two more finals to take his historic all-time record load to 21 golds and cement his legendary status.
Phelps beat Japan's Masato Sakai by just 0.04 seconds to take the 200m butterfly and later anchored the US 4x200m freestyle relay team to victory. At 31 — the oldest individual Olympic swimming gold medalist ever — Phelps is still the master of the pool.
After claiming his 20th title in five Olympics — beating old rival Chad le Clos in the process — Phelps stood in the water striking a pose like a Roman emperor, soaking up the acclaim.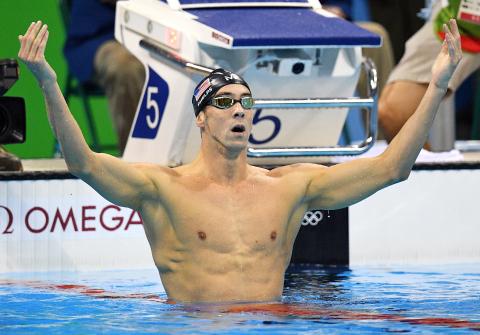 US swimmer Michael Phelps reacts after winning the men's 200m butterfly at the Olympic Games in Rio de Janeiro, Brazil, on Tuesday.
Photo: AP
The 200m butterfly was his first world record in 2001 and he was determined to win back the Olympic title he lost to South Africa's Le Clos in 2012.
However, Phelps said that was also the last time he would race it.
"That event is kind of like my bread and butter," Phelps said. "There wasn't a shot in hell I was losing that race and if I did, I was leaving everything in the pool."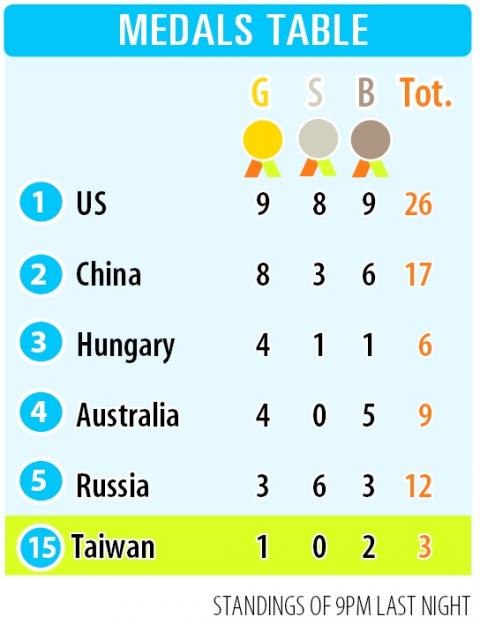 Even a late wardrobe malfunction could not stop Phelps from winning his 21st gold.
The most medaled Olympian of all time, now with an unprecedented collection of 25, tore his swim cap in half as he was putting it on just before the start of the freestyle relay.
Teammate Conor Dwyer swam the opening leg and then handed over his cap, turning it inside out to avoid any conflict with rival sponsors.
Phelps wears his own MP brand made by Italian company Aqua Sphere.
"I finished my leg and he tapped me on the shoulder when I was cheering Townley [Haas] on," Dwyer told reporters. "I heard him say: 'Diddy, look at my cap. I don't have a cap.' So I handed him mine."
"We all have ... different sponsors, so I think he had to wear just an all-black cap, so we reversed it and put on," Dwyer said. "We've seen that guy go through a lot of adversity, from winning gold medals without goggles, so I think a different cap won't stop that guy from having a good split [time]."
Dwyer had handed over to Haas in the relay, who was then followed by Ryan Lochte before Phelps swam the anchor leg to victory.
In the butterfly final at the 2008 Beijing Games Phelps won gold despite swimming with water-filled goggles that left him having to count his strokes.
In other sports, the US are looking forward to a new era of gymnastics domination, with Simone Biles making a flying start to her bid for five Rio Olympic golds.
Biles helped the US women's team to victory by eight points over Russia.
"It's everything and more than I'd hoped it to be," said the tiny 19-year-old Texan, who has set gymnastics alight with 10 world titles in the past three years.
As her Olympic odyssey got under way, another crumbled as defending tennis champion Serena Williams suffered a shock 6-4, 6-3 defeat to Ukraine's Elina Svitolina in the third round.
Williams, hampered by a shoulder injury, served five double faults in one game of the second set as her own bid to reach five gold medals ended.
The 34-year-old and her sister Venus were knocked out of the women's doubles, the three-time champions' first ever defeat together in Olympic competition.
"It was a great opportunity. It didn't work out the way I wanted it to, but at least I was able to make it to Rio. That was one of my goals," Serena said.
Comments will be moderated. Keep comments relevant to the article. Remarks containing abusive and obscene language, personal attacks of any kind or promotion will be removed and the user banned. Final decision will be at the discretion of the Taipei Times.