Schweinsteiger back as Germany start with win
'GOOD NEIGHBOR': Bastian Schweinsteiger came on in the 90th minute to score after three months out with an injured knee, while Jerome Boateng earned praise
Bastian Schweinsteiger had time for three touches of the ball and scored with one as world champions Germany started their European Championship campaign with a 2-0 win over Ukraine.
The 31-year-old Manchester United midfielder came on in the 90th minute and quickly put away a perfect pass from Mesut Ozil for the deciding goal.
With fan violence again tainting the tournament, Germany's win followed 1-0 victories for Poland over Northern Ireland and Croatia over Turkey.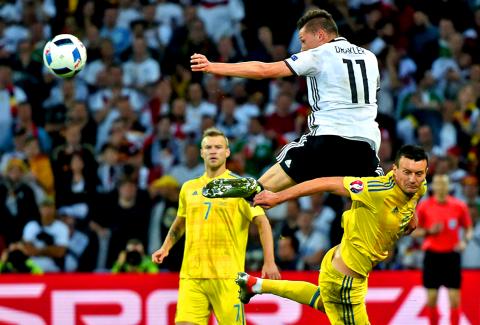 Germany midfielder Julian Draxler, left, heads the ball behind Ukraine defender Artem Fedetskiy during their Euro 2016 Group C match at the Stade Pierre Mauroy in Villeneuve-d'Ascq near Lille, France, on Sunday.
Photo: AFP
Schweinsteiger is coming back from a three-month knee ligament layoff and the the joy of his first international goal in five years apparently took a toll.
"I ran so hard in the celebrations that I'm a bit out of breath still. It was amazing for that to happen; it's the kind of thing you can only wish for, but the most important thing is the team wins," he said of his quickfire goal in the Group C match.
Defender Shkodran Mustafi headed the opener in the first half, but goalkeeper Manuel Neus had to make several key saves and Jerome Boateng made a spectacular goalline clearance to block a sure equalizer.
Germany coach Joachim Loew hailed Boateng, who was the target of right-wing German politician Alexander Gauland this month.
Gauland said Germans would not want Boateng as their neighbor and that the national team was no longer "German in the classical sense."
"It is good to have Jerome Boateng as your neighbor in the defense," Loew countered. "He sees dangerous situations, he reacted and very clearly the ball was not behind the line."
The evening was only blemished by fighting between German and Ukraine supporters in Lille before the game.
German police said they arrested 21 known hooligans who tried to get across the border. Another 50 leading suspects took part in the skirmishes that followed the major battles between Russia and England fans in Marseille.
A fan gatecrashed Luka Modric's celebrations after he scored Croatia's Group D winner over Turkey with a brilliant volley.
The Real Madrid playmaker performed an equally spectacular knee dive into the corner of the Parc des Princes, where he was joined by teammates, but also a fan in a Croatia replica shirt and red and white painted head.
Stewards led the man away after the security breach.
"It could have been also a supporter from Turkey, but thank God it was our supporter. After scoring this kind of goal, I didn't even notice," Modric said.
Croatia coach Ante Cacic said the goal had been "magical."
It was Modric's 11th goal for his country and they have never lost when he has scored.
"Luka really deserves to be talked about, especially after this match," Cacic said. "It was one of his best matches in Croatia's history. He was really playing well. He was really our leader."
Poland striker Arkadiusz Milik rifled home the only goal in his country's Group C win over Northern Ireland in Nice — his country's first ever at a European Championship final.
Poland had three draws and three losses over two appearances in 2008 and 2012.
Coach Adam Nawalka is now looking forward to playing Germany at the Stade de France on June 16 with a spot in the last 16 likely to be at stake.
"We have been preparing for them for a long time, we prepare to win against Gemany," Nawalka said.
Poland's man-of-the match, Gregorz Krychowiak, added to the air of confidence.
"The next games will show that we can be even better and go further," he said. "The players here play at European level for their clubs and are competing for the highest targets. They have the experience to take it forward at the Euros."
For Michael O'Neill's Northern Ireland, it was a disappointing end to their first ever European Championship match. It was also 30-years to the day since their last game in a major tournament — a 3-0 defeat by Brazil at the 1986 World Cup.
Northern Ireland kept the lid on Bayern Munich star Robert Lewandowski, but still needed some spectacular saves by Michael McGovern in goal to stay in the game.
"It was a difficult match. Poland were excellent," O'Neill said. "At times early on we were almost overpowered by their physical strength. We tried to get something out of it, but didn't manage to create anything of significance. In all honesty, the best team won on the day."
Northern Ireland now play Ukraine in Lyon on Thursday with both sides needing a win to stay in the hunt for the knockout stages.
Comments will be moderated. Keep comments relevant to the article. Remarks containing abusive and obscene language, personal attacks of any kind or promotion will be removed and the user banned. Final decision will be at the discretion of the Taipei Times.