Stephen Curry will not be on US team at Rio Olympics
Stephen Curry has withdrawn from consideration from the Olympics, leaving the US basketball team without the NBA's MVP.
Curry on Monday said in a statement that he has decided to pull out for "several factors — including recent ankle and knee injuries." He did not say what the other factors were.
Several athletes have expressed concerns about the water situation in Rio and the Zika virus.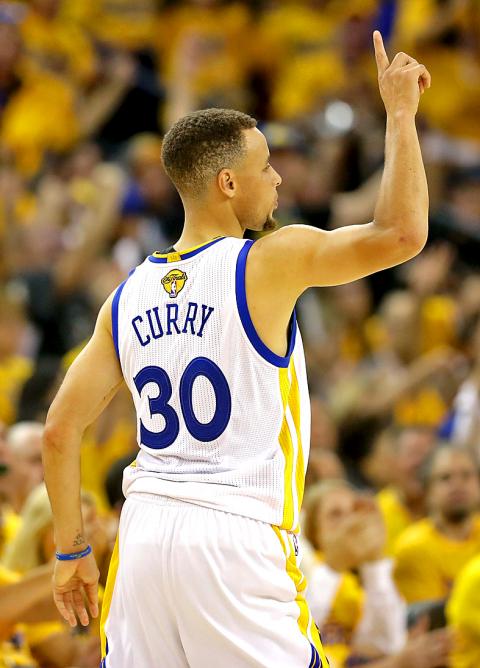 Stephen Curry of the Golden State Warriors reacts in Game 2 of the NBA Finals against the Cleveland Cavaliers on Sunday in Oakland, California.
Photo: AFP
The guard is the highest-profile absence for the two-time defending gold medalists, who will already be without NBA All-Stars Chris Paul and Anthony Davis.
Curry has won a pair of world titles with the US and was a starter when they won the 2014 Basketball World Cup.
He had spoken of wanting the chance to win Olympic gold, but missed six games in the post-season with a right-knee injury.
"My previous experiences with USA Basketball have been incredibly rewarding, educational and enjoyable, which made this an extremely difficult decision for me and my family," Curry said. "However, due to several factors — including recent ankle and knee injuries — I believe this is the best decision for me at this stage of my career."
Curry said he had spoken with his family, the Warriors and his representatives, and recently informed USA Basketball chairman Jerry Colangelo that he would not go to Brazil.
"Obviously we are disappointed that Steph will not be available this summer, but we understand these situations arise and we are fully supportive of his decision," Colangelo said.
Curry's decision to withdraw was first reported by the Mercury News.
The US have a list of 31 players in their roster pool for this summer — and plan to name their 12-man roster later this month.
Curry, the first player to be voted a unanimous MVP and the league's leading scorer, certainly would have been on it. He started all nine games for the US in Spain, averaging 10.7 points, and his USA Basketball experience dates to when he played for the under-19 team in 2007 that won a silver medal.
He could have been the team's biggest star in Rio, with Kobe Bryant retired and LeBron James still uncommitted. However, Curry decided it was more important that he rest, following a demanding regular season in which the Warriors set the NBA record with 73 victories, and a post-season run that has included ankle and elbow injuries on top of the sprained knee.
"It's an incredible honor to represent your country and wear 'USA' on your chest, but my primary basketball-related objective this summer needs to focus on my body and getting ready for the 2016-17 NBA season," Curry said.
Comments will be moderated. Keep comments relevant to the article. Remarks containing abusive and obscene language, personal attacks of any kind or promotion will be removed and the user banned. Final decision will be at the discretion of the Taipei Times.