Hawks eliminate Celtics in six games
Paul Millsap had 17 points and eight rebounds as the Atlanta Hawks eliminated the Boston Celtics with a 104-92 win in Game 6 of the first-round playoff series on Thursday.
Al Horford and Kent Bazemore each scored 15 points, Kyle Korver had 14 points and Jeff Teague added 11 for Atlanta, which led by as many as 28 points in the second half en route to their first playoff series win over Boston in nearly 60 years.
"We played well here before, but couldn't get it done," Horford said. "Tonight we took care of business. The shots went down for me tonight."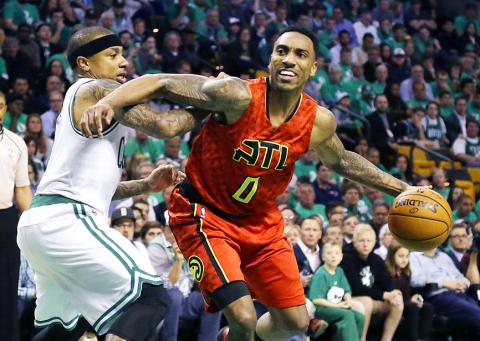 Atlanta Hawks guard Jeff Teague, right, drives against Boston Celtics guard Isaiah Thomas in the third quarter in Game 6 of the first-round NBA playoff series in Boston on Thursday.
Photo: AP
Atlanta next face the Cleveland Cavaliers in the second round, which begins on Monday at the Quicken Loans Arena.
The Hawks lost all three meetings with the Cavaliers during the regular season. Cleveland also swept Atlanta in four straight when the two teams met in last season's NBA playoff semi-finals.
"We know it is going to be tough, but we are looking forward to the matchup," Horford said of facing the Cavaliers.
Isaiah Thomas had a double-double with 25 points and 10 assists to lead host Boston in front of a crowd of 18,600 at the Garden arena. Jae Crowder finished with 15 points and Marcus Smart and Jonas Jerebko each added 13 for the Celtics.
Boston shot 36 percent from the field on Thursday and were held to 38 percent shooting in the series.
"We should give the Hawks credit. They are a better team. They proved it over six games," Boston coach Brad Stevens said.
The Celtics fell behind 20-17 at the end of the first quarter and were limited to 27 percent shooting in the opening half.
Atlanta outscored the Celtics 39-26 in the third quarter and led 89-61 with 9 minutes, 51 seconds remaining, but the Celtics battled back to come within 96-86 with just under two minutes remaining in the fourth.
Comments will be moderated. Keep comments relevant to the article. Remarks containing abusive and obscene language, personal attacks of any kind or promotion will be removed and the user banned. Final decision will be at the discretion of the Taipei Times.