Unbeaten Baltimore beat Boston 9-5
J.J. Hardy hit a pair of two-run home runs as the Baltimore Orioles pounded the Boston Red Sox 9-5 on Tuesday to win their seventh straight game and extend their perfect start to the Major League Baseball season.
The Orioles are the only remaining undefeated team in the majors, and this is their best start since moving to Baltimore in 1954.
"Everybody trusts one another," Hardy said. "It really is a good lineup and it's fun to be part of."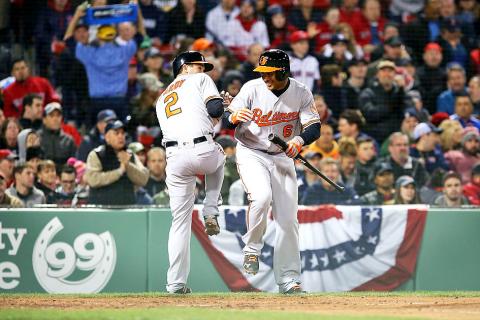 The Baltimore Orioles' J.J. Hardy, left, celebrates with teammate Jonathan Schoop after hitting a two-run homer against the Boston Red Sox in Boston, Massachusetts, on Tuesday.
Photo: AFP
David Ortiz hit his third homer of the season for a Boston team who lost for the third time in a row.
"We've got a hundred and some more games left. Things going to change," Ortiz said. "It's early. Don't panic."
Paul Goldschmidt hit a go-ahead homer in the eighth inning and drove in another run as Arizona won 4-2 to spoil Los Angeles' home opener.
Goldschmidt gave the D-backs a 2-1 lead with his second homer of the season off Chris Hatcher. Goldschmidt homered for the second straight game and has done so in four of his past five against the Dodgers, dating to last season.
"It was a nice come-from-behind win, especially against these guys," Goldschmidt said. "Hopefully, we'll be battling them the whole year with the rest of the division. It's a tough division, so these guys mean a little bit extra because you're trying to get that playoff spot."
Bryce Harper sliced a two-run double to left with two outs in the eighth inning, lifting the Washington Nationals to a 2-1 home victory against the Atlanta Braves.
The reigning National League MVP broke a scoreless tie by connecting with the first pitch delivered by left-handed reliever Eric O'Flaherty.
"I was just excited we didn't have to play extra innings," Harper said. "I saw the whole dugout was pretty fired up about it."
Lorenzo Cain hit a three-run homer in the first inning before Kansas City held on for a 3-2 win over Houston, while Brian McCann homered before leaving with a bruised left big toe as the New York Yankees beat the Toronto Blue Jays 3-2.
Noah Syndergaard struck out 12 in the New York Mets' 2-1 loss to the Miami Marlins. Dee Gordon scored the winning run in the eighth inning after a much-anticipated pitching matchup between Syndergaard and Miami ace Jose Fernandez.
"I'm jealous of what they can do," Miami relief pitcher David Phelps said. "You're looking at the future of baseball right there, those two guys."
Trevor Brown hit a pair of two-run homers and Jeff Samardzija tossed eight solid innings to get his first win for San Francisco as the Giants beat the Denver Rockies 7-2. Hunter Pence also hit a two-run home run to help San Francisco win for the fourth time in five games.
Justin Upton had four hits, including a first-inning home run off a camera well above center field as the Detroit Tigers beat the Pittsburgh Pirates 8-2 while Logan Forsythe and Evan Longoria both hit two-run home runs in the eighth inning as Tampa Bay Rays beat Cleveland Indians 5-1.
Adrian Beltre drove in five runs as the Texas Rangers thrashed the Seattle Mariners 8-0, while Geovany Soto hit a go-ahead two-run homer in the ninth as the Los Angeles Dodgers rallied to beat Oakland 5-4. The Phillies defeated the San Diego Padres 3-0.
Comments will be moderated. Keep comments relevant to the article. Remarks containing abusive and obscene language, personal attacks of any kind or promotion will be removed and the user banned. Final decision will be at the discretion of the Taipei Times.