Braves win against Pure Youth, level series at two each
Behind seven points by Liu Sheng-yao in the game's final minute of overtime, the Fubon Braves outfought top-seeded Pure Youth Construction to win 86-81 at the Sinjhuang Sports Complex in New Taipei City last night to take Game 4 of their series.
"The shots were there for me, so I took them and did not worry about anything else," Liu said after an electrifying effort to breathe new life into his team.
Another loss to the Builders would have put them in the dire position of being down 3-1 in the best-of-seven semi-final series, but the result left it at two wins each.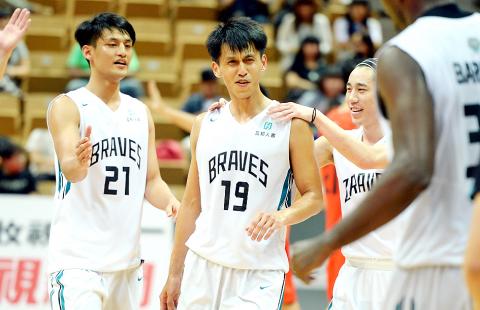 The Fubon Braves' Liu Sheng-yao, center, celebrates with his teammates after their win against Pure Youth Construction at the Sinjhuang Sports Complex in New Taipei City yesterday.
Photo: Lin Cheng-kung, Taipei Times
Despite coughing up a six-point lead at the half with a dismal third quarter, Pure Youth had a chance to put the game away late in the fourth when Lin Chin-bang stole an inbound pass with 15.9 seconds remaining in regulation. Lin seemed well on his way to an easy go-ahead score, but the normally sure-handed forward blew a golden opportunity by missing the uncontested layup, sending the game into an extra session.
That was the break the Braves were looking for as they hung tight with the regular-season champions to set up Liu's game-turning three that gave the Braves the lead for good.
Fubon's Foreign Player of the Year Earl Barron had a big day with a game-high 34 points to pace his team to an emotional win.
Builders head coach Ben Metcalf was named the Coach of the Year at a ceremony during the halftime break, but his team failed to send him off in grand style by not executing down the stretch.
TAIWAN BEER 46, TIGERS 44 (HT)
At press time last night, the Dacin Tigers were leading Taiwan Beer at halftime in Game 4 of their semi-final series in New Taipei City.
Comments will be moderated. Keep comments relevant to the article. Remarks containing abusive and obscene language, personal attacks of any kind or promotion will be removed and the user banned. Final decision will be at the discretion of the Taipei Times.