Pacquiao mulls Olympics; Roach keen
'INSANE' PROPOSAL: Manny Pacquiao's promoter, 84-year-old Bob Arum, said that having top professional fighters competing against raw amateurs is wrong
Veteran trainer Freddie Roach has vowed to back Manny Pacquiao if the boxer decides to take advantage of rule changes that could see professional fighters allowed to take part in this summer's Olympics.
Pacquiao on Wednesday said he is yet to decide on whether he would pursue a spot in the Philippines Olympic team, appearing to pull back from an earlier statement in which he said he would be honored to fight in Rio.
"I am not saying a yes or a no," Pacquiao said. "I am not closing the door. I have to think about it and I am still thinking about it. It is good to let professionals in the Olympics."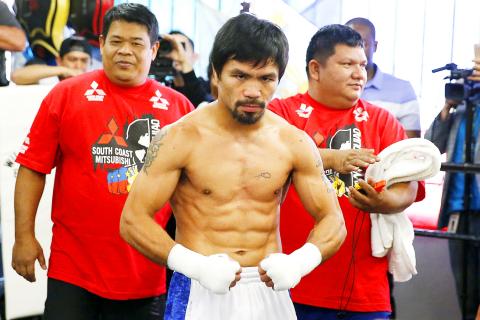 Manny Pacquiao, center, poses after a training session in Los Angeles on Tuesday.
Photo: Reuters
The eight-time world champion said earlier this month that he had been "personally invited" to Rio by International Boxing Association (AIBA) president Wu Ching-Kuo.
Proposed changes to AIBA statutes, set to be put to a vote at a special congress of AIBA confederations at the end of next month, could leave Olympic eligibility in the hands of national boxing federations.
Pacquiao, who is preparing for what is being billed as his farewell fight against Timothy Bradley in Las Vegas on April 9, is planning to transition into Philippine politics when he hangs up his gloves.
However, the prospect of becoming his nation's first ever Olympic gold medalist is likely to be a powerful lure for the 37-year-old.
The Philippines have won a total of nine bronze and silver medals at the Olympics since the 1928 Games in Amsterdam, five of them in boxing.
Roach on Wednesday said he had discussed the prospect of fighting in Rio with Pacquiao — and revealed he had even offered to work for free.
"If they let him in the Olympics, I told him I would train him," Roach said. "Pro athletes compete in other sports at the Olympics, so why not?"
Roach dismissed concerns that allowing professionals to fight against untested amateurs could be risky.
"What is dangerous about it? People talk about the difference between pros and amateurs, but good pros come from the amateurs," Roach said.
However, Roach's opinion is not shared by Pacquiao's veteran promoter Bob Arum, who described the AIBA's proposals as "insane."
"I think the idea of professional boxers in the Olympics, the way it has been proposed, is insane," Arum, 84, said. "You cannot have top professional fighters competing in the Olympics against raw amateurs. To mix them up is wrong."
Comments will be moderated. Keep comments relevant to the article. Remarks containing abusive and obscene language, personal attacks of any kind or promotion will be removed and the user banned. Final decision will be at the discretion of the Taipei Times.