Capitals beat Hurricanes, become first into playoffs
INEVITABILITY: Alex Ovechkin scored the OT game-winner to put Washington in the playoffs for the eighth time in nine seasons, while the Leafs beat the Lightning 4-1
Alex Ovechkin scored in overtime as the Washington Capitals picked up their 50th win of the season and became the first NHL team to clinch a playoff spot, beating the Carolina Hurricanes 2-1 on Tuesday night.
Ovechkin scored his seventh game-winner of the season 1 minute, 38 seconds into overtime after the Capitals clinched a playoff spot by picking up a point.
It is their eighth playoff appearance in nine seasons and one that has been inevitable for a long time as they have skated away from the rest of the field.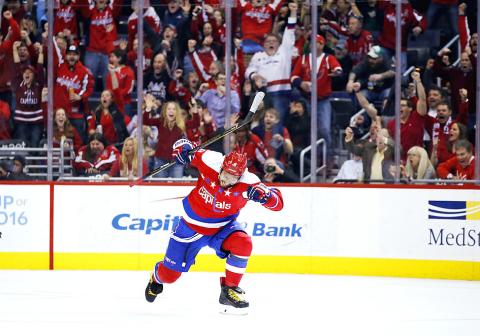 Washington Capitals left wing Alex Ovechkin celebrates his game-winning goal in the overtime period of their NHL game against the Carolina Hurricanes on Tuesday in Washington.
Photo: AP
Justin Williams also scored for Washington, who had 25 saves from Braden Holtby.
Hurricanes goaltender Eddie Lack stopped 29 of the 31 shots he faced. Jordan Staal scored for Carolina, who had their dim playoff hopes take another hit.
PENGUINS 2, ISLANDERS 1, SO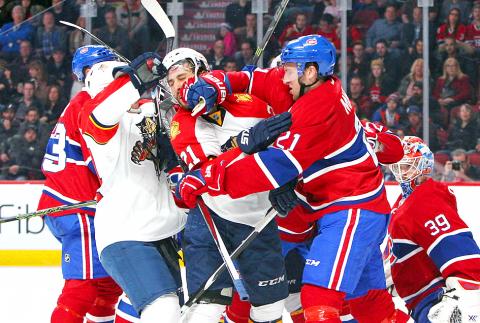 Florida Panthers and Montreal Canadiens players exchange punches in their NHL game at Bell Centre in Montreal, Canada, on Tuesday.
Photo: Jean-Yves Ahern-USA TODAY
In Pittsburgh, Pittsburgh's Kris Letang scored the only goal of the shootout with a pretty backhand past New York Islanders rookie goalie Jean-Francois Berube to lift the Penguins.
Marc-Andre Fleury stopped Frans Nielsen, Kyle Okposo and John Tavares in the shootout as Pittsburgh strengthened their hold on the first wild-card spot in the Eastern Conference.
Fleury finished with 25 saves for the Penguins. Chris Kunitz scored his 14th goal of the season in the 800th game of his career. Sidney Crosby picked up the secondary assist to extend his points streak to nine games.
Berube made 33 stops in his third NHL start, including several in the extra period. Okposo's score at 14:35 of the third sent the game to overtime, but the Islanders could not pick up the additional point when they failed to solve Fleury in the shootout.
SHARKS 3, BRUINS 2
In San Jose, California, Joonas Donskoi scored a tiebreaking power-play goal with 13:23 remaining after an offensive zone penalty by Boston's Jimmy Hayes as the San Jose Sharks beat the Bruins.
Brent Burns helped set up Donskoi's goal and scored one of his own, tying Sandis Ozolinsh's franchise records for goals and points in a season by a defensemen.
Melker Karlsson also scored as San Jose won consecutive home games for the first time in two months to move within one point of Anaheim for second place in the Pacific Division.
James Reimer made 21 saves on his 28th birthday for his first home win with San Jose.
MAPLE LEAFS 4, LIGHTNING 1
In Toronto, Ben Smith and Connor Carrick scored their first goals of the season to help Toronto beat Tampa Bay.
With the win, the Leafs have won back-to-back games and picked up points in four of their past five.
Zach Hyman and P.A. Parenteau added empty-net goals, while Jonathan Bernier made 26 saves for his ninth win of the season.
Brian Boyle scored for Tampa Bay. Andrei Vasilevskiy stopped 20 shots in the loss.
In other NHL action, it was:
‧ Flyers 4, Red Wings 3
‧ Panthers 4, Canadiens 1
‧ Senators 3, Wild 2, OT
‧ Kings 5, Stars 2
Comments will be moderated. Keep comments relevant to the article. Remarks containing abusive and obscene language, personal attacks of any kind or promotion will be removed and the user banned. Final decision will be at the discretion of the Taipei Times.