Trail Blazers dominate in victory against Warriors
Damian Lillard on Friday night scored a career-high 51 points and had seven assists and six steals to lead the Portland Trail Blazers to a stunningly dominant 137-105 victory over the NBA-leading Golden State Warriors.
C.J. McCollum added 21 points and seven assists for Portland in the first game after the All-Star break for both teams. The Trail Blazers have won four straight and nine of 10 to improve to 28-27, the first time they have been over .500 since they were 3-2 on Nov. 4 last year.
Stephen Curry led the Warriors (48-5) with 31 points and five assists. Draymond Green added 14 points, 12 rebounds and eight assists, but also had nine turnovers. Golden State had won 11 straight.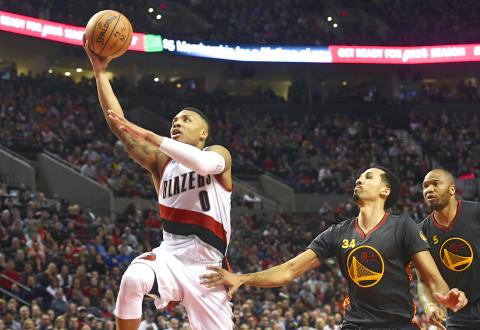 The Portland Trail Blazers' Damian Lillard, left, gets past the Golden State Warriors' Shaun Livingston, center, and Marreese Speights on his way to the basket in the third quarter of their game in Portland, Oregon, on Friday.
Photo: Steve Dykes-USA TODAY
The Blazers used a stifling defense throughout the game, but especially in the third quarter, when they forced the defending champions into 13 turnovers. Portland led 104-79 after three and the lead could have been bigger if the Blazers had been able to convert more of those turnovers into points.
SPURS 119, LAKERS 113
In Los Angeles, Tony Parker scored 25 points in San Antonio's victory over Los Angeles in the final matchup between Kobe Bryant and longtime Western Conference adversary Tim Duncan.
Bryant is retiring at season's end, with the Lakers way out of the playoff picture at 11-45. Bryant and Duncan have each led their clubs to five NBA titles and have at least one league Most Valuable Player (MVP) award to their credit — in addition to MVPs of the NBA Finals and NBA All-Star Games.
Bryant had 25 points in 29 minutes, and Duncan finished with 12 points and 13 rebounds to help San Antonio complete a four-game season sweep. The Spurs (46-9) are three games behind defending champions Golden State in the race for the league's best record.
PACERS 101, THUNDER 98
In Oklahoma City, Oklahoma, Monta Ellis scored 27 points to help Indiana beat Oklahoma City.
Paul George had 22 points and 10 assists, Ian Mahinmi matched a career high with 19 points and grabbed 11 rebounds, and Myles Turner had 16 points and a career-high six blocks for the Pacers.
George Hill had nine points and nine assists and matched a career high with 11 rebounds for Indiana. The Pacers have won six of nine.
Kevin Durant had 31 points and eight rebounds, and Russell Westbrook had 23 points and a career-high 18 assists for the Thunder. Oklahoma City had won 14 of 16.
NETS 109, KNICKS 98
In New York, Brook Lopez scored 33 points as Brooklyn beat New York to hand the Knicks their seventh straight loss.
The Nets buried the Knicks under two big second-half runs and put six players in double figures in a strong showing in front of new general manager Sean Marks, who was hired on Thursday.
Lopez shot 13 of 23 from the field and added eight rebounds in dominating twin brother Robin, who had 10 points and seven boards.
Carmelo Anthony had 22 points, seven rebounds and six assists for the Knicks. Interim coach Kurt Rambis continues to say the playoffs are the Knicks' goal, but they might have blown any shot of that by losing 11 of their past 12 games since they were 22-22. They have dropped both games under Rambis after Derek Fisher was fired on Feb. 8.
In other results, it was:
‧ Bulls 116, Raptors 106
‧ Rockets 116, Suns 100
‧ Heat 115, Hawks 111
‧ Magic 110, Mavericks 104, OT
‧ Wizards 98, Pistons 86
‧ Hornets 98, Bucks 95
‧ Grizzlies 109, Timberwolves 104
‧ Kings 116, Nuggets 110
‧ Pelicans 121, 76ers 114
‧ Jazz 111, Celtics 93
Comments will be moderated. Keep comments relevant to the article. Remarks containing abusive and obscene language, personal attacks of any kind or promotion will be removed and the user banned. Final decision will be at the discretion of the Taipei Times.