Cavs lose Israeli fans, game to Chicago
BLAME OBAMA? Netizens in the nation where David Blatt rose to prominence in the game joked that PM Netanyahu would blame the coach's ouster on the US president
The Cleveland Cavaliers suddenly have far fewer fans in Israel after the firing of David Blatt.
The shock announcement on Friday, despite the second-year coach leading the Cavs to the NBA Finals a year ago and to the top of the Eastern Conference this season, was taken personally by many fans in Israel, where the Boston-born Blatt made his name professionally, met his wife and raised his family.
News of the firing topped all Israeli newscasts on Saturday, knocking Middle East violence off the headlines.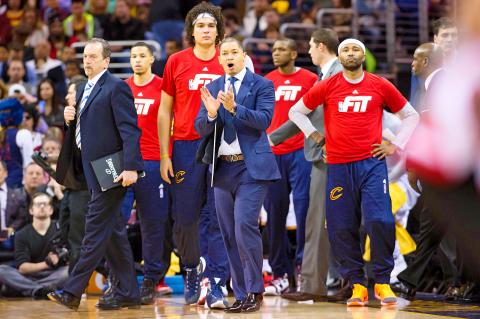 New Cleveland Cavaliers coach Tyronn Lue, center, claps during their game against the Chicago Bulls at Quicken Loans Arena in Cleveland, Ohio, on Saturday.
Photo: Jason Miller/Getty Images/AFP
The provincial pride in Blatt was suddenly replaced with anger toward the Cavaliers and their perceived coldhearted send-off. Most of the venom was directed at LeBron James, the Cleveland superstar who reportedly had a rocky relationship with Blatt.
"Finally I can go back to hating LeBron without feeling guilty. Hope he never sees a title in his life," said Gil Eyal, a 38-year-old Israeli high-tech executive who typically supports the Boston Celtics."
A Channel 10 talk news show ranked it the top story of the week, with panelist Aviv Bushinsky lamenting how Blatt's amazing season had ended "because of one man: LeBron James."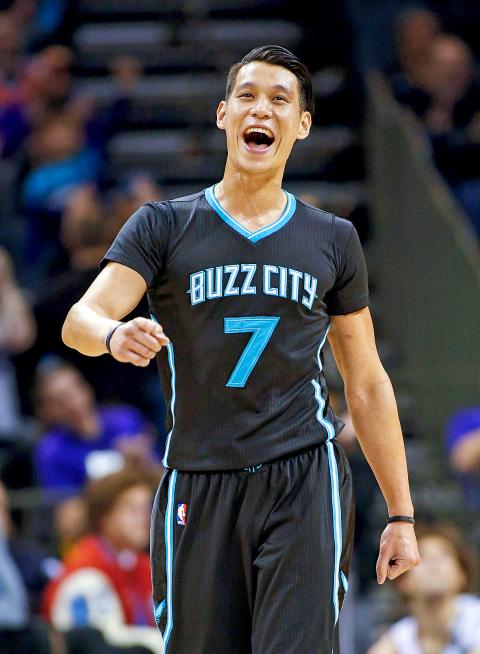 Charlotte Hornets guard Jeremy Lin reacts during their game against the New York Knicks in Charlotte, North Carolina, on Saturday.
Photo: AP
The anguish was felt vividly online and in social networks, with one joke that Israeli Prime Minister Benjamin Netanyahu would blame the firing on US President Barack Obama.
However, James denied any involvement with the decision to fire Blatt.
On Saturday he said he was "surprised and caught off guard" by the move.
The Cavaliers dumped Blatt in favor of associate coach Tyronn Lue despite a 30-11 record this season.
Cavaliers general manager David Griffin said James, a four-time NBA Most Valuable Player, "doesn't run this organization" and said his watching players and Blatt interact told him it was time to make a move.
"This was one choice I didn't need to ask anyone about," Griffin said. "I know what something that's not right looks like."
Griffin said it was "unfair" to imply James had any role in the choice.
James said he was not concerned that people might think he influenced the decision.
"That's not my concern," James said. "I found out about it just like every other player on this team at 3:30[pm] yesterday [Friday]... I think [Griffin] was right on everything he said... Like it or love it or hate it, we got to respect it."
On the court, Cleveland's Lue era got off to a rocky start on Saturday as the Cavaliers were beaten 96-83 on their home floor by NBA Central Division rivals Chicago.
Any energy boost for James and the Cavs was quickly snuffed out by the Bulls, who scored the last 13 points of the opening quarter to take a 21-14 lead that they did not relinquish.
The Cavaliers shot 37.2 percent from the floor, made just nine of 22 from the free-throw line and were booed by their home crowd.
James scored 16 of his 26 points in the fourth quarter, and with 13 rebounds and nine assists fell one assist shy of his first triple-double of the season.
It wasn't enough to get the Cavs out of the hole they had dug.
"I thought guys got open shots," Lue said. "We just didn't make them."
Elsewhere, guards Jeremy Lin and Kemba Walker scored 26 points apiece to lift the Charlotte Hornets to a 97-84 victory over the New York Knicks.
Lin added five rebounds and five assists, delivering the kind of energetic drives to the basket and jump shots that saw him shoot to prominence while with the Knicks in 2012, when New York fans were mesmerized by "Linsanity."
Lin scored 11 of his 26 points in the third quarter, when Charlotte seized a 21-point lead.
He and Walker were a combined 19-of-19 from the free-throw line, Lin making all 10 of his foul shots and Walker all nine of his.
The win was especially impressive because the Hornets were without four injured regulars: guards Nicolas Batum and Jeremy Lamb, and centers Al Jefferson and Cody Zeller.
The Jazz-Wizards and Celtics-76ers contests were postponed due to the weather.
In other results, it was:
‧ Suns 98, Hawks 95
‧ T'wolves 106, Grizzlies 101
‧ Nuggets 104, Pistons 101
‧ Kings 108, Pacers 97
‧ Trail Blazers 121, Lakers 103
‧ Pelicans 116, Bucks 99
Comments will be moderated. Keep comments relevant to the article. Remarks containing abusive and obscene language, personal attacks of any kind or promotion will be removed and the user banned. Final decision will be at the discretion of the Taipei Times.