Chou Yi-hsiang last-second tip-in helps Tigers
Chou Yi-hsiang's tip-in basket off a missed attempt by Chu Yi-tsung with 1.4 second remaining on the game clock turned a 62-63 deficit into a 64-63 lead and the red-hot Dacin Tigers held off Taiwan Beer to win by the same score at the Banciao Gymnasium in New Taipei City last night
It was the Tigers' eighth win their past nine outings.
"I guess I was in the right place at the right time," Chou said after rallying his club from behind to top the Brew Crew in a game that could have gone either way.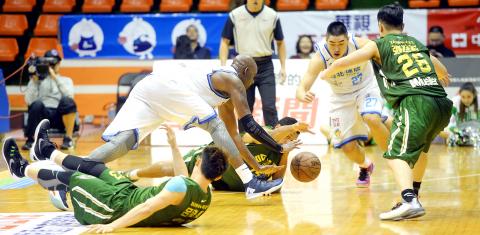 Taiwan Beer's Patrick Fitzgerald O'Bryan, center on the ground, and the Dacin Tigers' Bryan Davis, top left, join a scramble for the ball during their game at the Banciao Stadium in New Taipei City yesterday.
Photo: Lin Cheng-kung, Taipei Times
The Tigers' emerging superstar tied a season-high with six three-pointers on a 24-point effort to lift his team past a feisty Brew Crew in a win that pushed the Tigers up a notch to force a two-way tie for second in the standings.
They trail league-leading Pure Youth Construction by 1.5 games.
The highly anticipated showdown between the second and the third-ranked teams in the league lived up to the hype, with the Cats holding Taiwan Beer scoreless for nearly three minutes to jump to a 7-0 lead, only to see the Brew Crew answer with a 13-6 run of their own to trail Dacin 19-17 after one quarter of play.
Ten untimely turnovers by the Tigers in a sloppy second quarter paved the way for Taiwan Beer to outscore the Tigers 16-10 in the period, with the play highlighted by a breakaway layup from Liu Cheng after the shooting guard stole a pass from Taiwan Beer.
Taiwan Beer led 33-29 lead at the half.
That was when Chou took over the game with three three's in the third quarter to bring his team to within three of Taiwan Beer after trailing by as many as six earlier in the third.
Two more three's by Chou early in the fourth finally gave Dacin the lead again.
They held on to the advantage for the next five minutes until a pair of free throws by Wu Min-hsien with less than four minutes remaining in the game put Taiwan Beer ahead 61-60, setting the stage for Chou's nail-biting finish.
Taiwan Beer had one final shot to win it with 1.4 second remaining, but Chang Jung-hsuan's baseline jumper bounced off the rim to end their hopes.
Bank of Taiwan, FUBON Braves
In the late game at press time last night, Bank of Taiwan and the Fubon Braves went into overtime after being tied 75-75 in regulation.
Comments will be moderated. Keep comments relevant to the article. Remarks containing abusive and obscene language, personal attacks of any kind or promotion will be removed and the user banned. Final decision will be at the discretion of the Taipei Times.