Nuggets hand Warriors third defeat
HORNETS WIN: Jeremy Lin scored 19 points, including eight-of-eight from the free-throw line, as Charlotte beat the Atlanta Hawks to stop a seven-game losing streak
Denver forward Danilo Gallinari scored 28 points and came up with a key late steal as the Nuggets handed the Golden State Warriors just their third defeat of the NBA season on Wednesday, 112-110 in Colorado.
Golden State's star guard Stephen Curry scored 38 points, but the Warriors trailed by 10 heading into the final period and could not quite climb out of the hole.
"I don't think we played hard enough for the majority of the game," said Warriors coach Luke Walton, whose team fell to 36-3. "I thought we gave a tremendous effort in the fourth quarter — well, in the last half of the fourth quarter, but for a championship team and what we're trying to accomplish, in my opinion we didn't play hard enough and we didn't play smart enough for a majority of that game."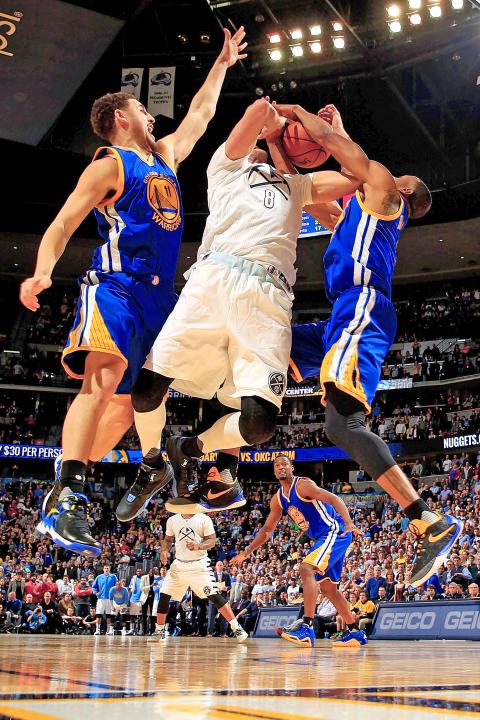 The Golden State Warriors' Andre Iguodala, right, and Klay Thompson, left, defend against Danilo Gallinari of the Denver Nuggets during their game at the Pepsi Center in Denver, Colorado, on Wednesday.
Photo: AFP
Nevertheless the Warriors, who are chasing not only a repeat title, but the record for regular season wins set by the 72-10 Chicago Bulls of 1995-1996 — had a chance to pull it out at the end.
Gallinari, who made 17-for-19 free throws, missed one with 3.1 seconds remaining to give the Warriors a chance to overcome the 112-110 deficit.
Golden State inbounded the ball, but Klay Thompson missed a three-point attempt at the buzzer.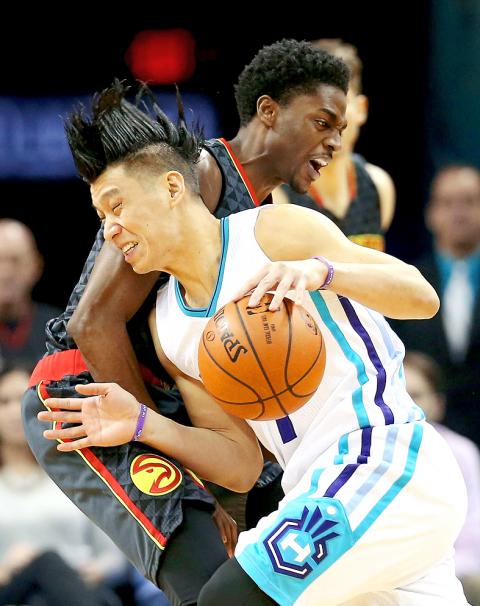 The Charlotte Hornets' Jeremy Lin, front, runs into Justin Holiday of the Atlanta Hawks during their game at Time Warner Cable Arena in Charlotte, North Carolina, on Wednesday.
Photo: AFP
Golden State played without versatile forward Draymond Green, who missed his first game of the season as a scheduled day of rest.
"We could have used his energy tonight," Walton said.
Curry scored 20 points in the fourth quarter, draining a three-pointer, three free throws and two layups as the Warriors cut the deficit to 102-95 with 2 minutes, 40 seconds left to play.
Curry's fourth three-pointer of the game pulled the Warriors within 104-100 with 1 minute, 44 seconds remaining, but Will Barton, who scored 21 points for Denver, responded with a three-pointer of his own.
After another Curry layup, Denver's Darrell Arthur sank a jump shot to give the Nuggets a 109-102 lead.
A layup from Warriors forward Harrison Barnes and a three-pointer by Curry made it 109-107 with 37.1 seconds to play.
Gallinari then stole the ball from Curry and Denver guard Gary Harris hit two free throws with 5.4 seconds left.
Thompson sank a three-pointer with 3.4 seconds remaining to pull the Warriors to 111-110, but after Gallinari made one of two free throws and Thompson was unable to get the game-winner.
"We showed a lot of fight and aggressiveness down the stretch, [but] we spotted them too many points," Curry said.
HORNETS 107, HAWKS 84
In Charlotte, North Carolina, Kemba Walker scored 23 points as Charlotte pulled away from Atlanta to stop a seven-game losing streak.
Cody Zeller added 19 points and 10 rebounds.
Jeremy Lin finished with 19 points, five rebounds and shot a season-best eight-of-eight from the free-throw line, the hornets.com Web site said. It was Lin's highest-scoring performance as a reserve so far this year.
CLIPPERS 104, HEAT 90
In Los Angeles, backup center Cole Aldrich had 19 points and seven rebounds in place of ailing DeAndre Jordan as Los Angeles used a third-quarter surge to beat Miami for their 10th straight victory.
Jordan was sidelined because of pneumonia, ending the NBA's longest active consecutive games played streak at 360.
The eight-year veteran, who led the league in rebounding the past two seasons, had the second-longest streak in franchise history behind Randy Smith's 595 straight games with the Buffalo Braves.
Aldrich, a five-year veteran making his first start in 17 games with the Clippers, made seven of 14 shots while playing a season-high 24 minutes.
In other games, it was:
‧ Thunder 108, Mavericks 89
‧ Celtics 103, Pacers 94
‧ Nets 110, Knicks 104
‧ Wizards 106, Bucks 101
‧ Rockets 107, Timberwolves 104
‧ Trail Blazers 99, Jazz 85
‧ Pelicans 109, Kings 97
Comments will be moderated. Keep comments relevant to the article. Remarks containing abusive and obscene language, personal attacks of any kind or promotion will be removed and the user banned. Final decision will be at the discretion of the Taipei Times.