Budget shortfall threatens Rio metro line expansion
Another US$255 million is needed to complete the extension of Rio de Janeiro's metro line connecting tourist areas to the site of next year's Olympics, city officials said on Friday.
Rio's transport secretary said that the city was waiting for a late payment this month of about US$120 million from the federal budget and that another US$135 million would be needed to finish the project.
"These funds are indispensable for us to finish the work in time for the Olympics, which means in July [next year]," Rio de Janeiro Secretary of State for Transport Carlos Osorio was quoted as saying by O Globo newspaper.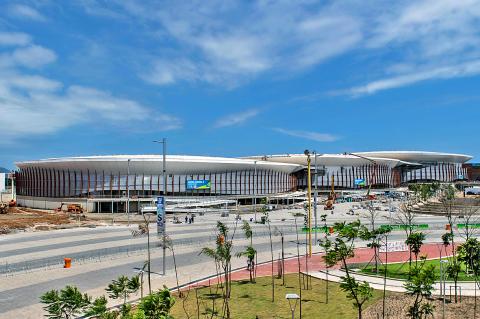 Work continues on the Carioca Arena venues for next year's Olympic Games at the City of Sports Complex in Rio de Janeiro on Friday.
Photo: AFP
The extension is to reach Barra de Tijuca, the western area of the sprawling city where much of the Olympics are to be held and where the Olympic Village is located. It is considered a vital element in plans to handle the huge number of visitors.
The metro is also being integrated with a new system of express buses running in dedicated lanes to reduce what are often tortuous journey times in a city with complicated geography and major traffic jams.
In July, a government auditor warned that the metro was at "high risk" of not being completed in time for the games, which start on Aug. 5 next year.
The funding concerns come as Brazil struggles with a deep recession, a political crisis in which Brazilian President Dilma Rousseff faces possible impeachment and a huge corruption scandal.
Caught up in that scandal is construction giant Odebrecht, the lead member of the consortium building the metro. Its former CEO, Marcelo Odebrecht, is in detention and resigned from his post on Thursday.
Comments will be moderated. Keep comments relevant to the article. Remarks containing abusive and obscene language, personal attacks of any kind or promotion will be removed and the user banned. Final decision will be at the discretion of the Taipei Times.