Ronaldo 'afraid of nothing,' will not discuss FIFA
The most important date of the year for Cristiano Ronaldo has nothing to do with Real Madrid's big El Clasico games against Barcelona, crucial UEFA Champions League matches, or representing Portugal on international duty.
According to Ronaldo, it is when he takes a private jet on an annual January trip to Zurich, Switzerland, to discover if he is to be crowned the world's top soccer player at FIFA's Ballon d'Or extravaganza.
"It is a card inside an envelope that can change so much," Ronaldo said in a new documentary about his life that premiered in London on Monday. "It is the climax of a year's work."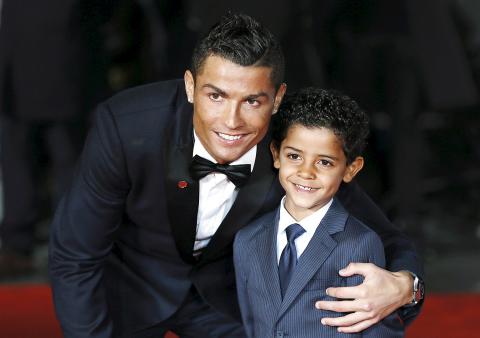 Cristiano Ronaldo, left, poses with his son, Cristiano Ronaldo Jr, at the world premiere of "Ronaldo" in London, England, on Monday.
Photo: Reuters
Ronaldo's obsession with winning soccer's top individual honor is a major theme in the 92-minute documentary, which opens with last year's gala and closes with this year's triumph.
What Ronaldo is less keen to talk about is the governing body behind the coveted golden ball or FIFA president Sepp Blatter, who has presented him with it three times.
Promoting his film in London on Monday, a news conference moderator initially tried to cut off a question to Ronaldo about FIFA and what the star player expects from the scandal-battered organization that runs the game.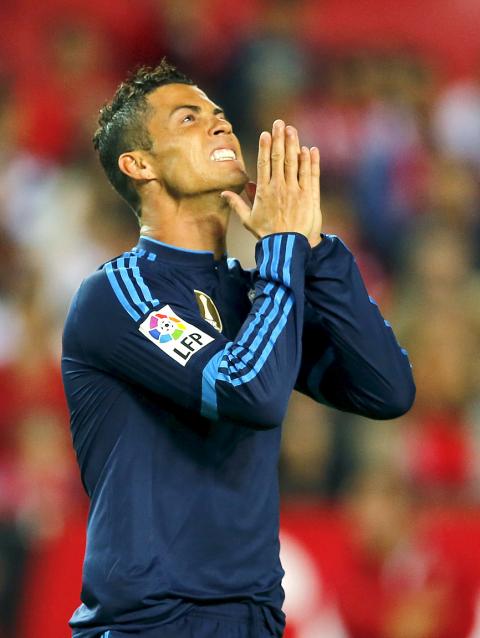 Real Madrid's Cristiano Ronaldo reacts during their La Liga match against Sevilla at the Estadio Ramon Sanchez Pizjuan in Seville, Spain, on Saturday.
Photo: Reuters
However, Ronaldo, perhaps sensing he was being seen as weak, quickly cut in: "I am not afraid of nothing ... I answer what I think."
Only he did not.
"Of course I am not going to speak about that because when Cristiano says something it is creates like a huge thing," Ronaldo said, referring to himself in the third person. "I am not going to be involved in these kinds of problems."
Pressed further on why players are seen to be afraid of speaking out on the state of FIFA, Ronaldo was no more revealing.
"What do you expect me to say? I am so happy? Of course I am a little bit sad because of yesterday," he said, referring not to FIFA, but Real Madrid's first loss of the season.
"I do not want to [think about] yesterday on this day, because it is such a special day for me. It is one of the most important days in my life," he added.
For Ronaldo, getting his own film premiere in London's Leicester Square seems to be an occasion on par with Champions League finals and Ballon d'Or galas.
Already the player with one of the biggest egos in the game — justifiably, given his goal scoring exploits at Manchester United and now Real — Ronaldo is elated at becoming a silver screen star thanks to the team behind movies about Formula One driver Ayrton Senna and troubled songstress Amy Winehouse.
However, it is a film that is unlikely to win Ronaldo any cinematic honors to join the vast collection of soccer medals — unless awards are given for shots of soccer players preening in the showers and shaving.
However, there are touching scenes with Ronaldo seen as a doting father, playing with Cristiano Jr in his Madrid home.
Recent media reports are used in the film to highlight the mystery over the identity of his son's mother. Ronaldo has full custody of Cristiano Jr and said that when he is older "then I will tell him what I did."
Cristiano Jr is seen living a closeted life, never mixing on camera with other children. His father lives a similar existence.
"In football, I do not have a lot of friends... Most of the time I am alone," Ronaldo said. "I consider myself to be an isolated person ... disconnected from the world."
Perhaps Ronaldo's tender care for his son is because of his own troubled upbringing with a father who drank himself to death 10 years ago.
"I wanted a different father," Ronaldo said in a rare revealing moment in the film that is not about self-promotion.
His father figure now is agent Jorge Mendes, whose fortune has been built by representing players like Ronaldo — including his then-world-record £80 million (then-US$120 million) switch from United to Real in 2009. Much of the film morphs into a homage to Mendes, the super-agent in the sharp black suit, black tie and shades.
"If I did not know you, I would ask for your autograph," Mendes said to Ronaldo at a celebratory dinner. "I live obsessed with him every day."
However, Ronaldo's biggest fan seems to be himself.
"If we had two or three Cristiano Ronaldos in the [Portugal] team, I would be more comfortable, but we do not have," Ronaldo said, reflecting on Portugal's group-stage failure at last year's FIFA World Cup.
Comments will be moderated. Keep comments relevant to the article. Remarks containing abusive and obscene language, personal attacks of any kind or promotion will be removed and the user banned. Final decision will be at the discretion of the Taipei Times.