Adidas and Obama take stand on mascots
US President Barack Obama on Thursday criticized sports teams' continued use of Native American mascots and commended popular German sportswear company Adidas for its offer to help teams eliminate them.
Adidas earlier on Thursday announced that it would partner with any high school across the US that wanted to change its Native American-themed mascot or logo. The company said it would offer design expertise and financial help to schools interested in rebranding.
At the seventh annual White House Tribal Nations Conference in Washington, Obama praised the initiative as a step toward breaking stereotypes.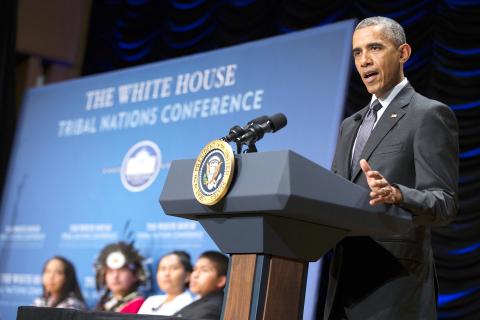 US President Barack Obama speaks at the 2015 White House Tribal Nations Conference in Washington on Thursday.
Photo: AP
"If you walk into a school the first day and you're already feeling that stereotypes are embedded in the culture and the cheers and all that, right away that kid is feeling set apart, and different," he told the crowd of more than 500 Native American youth, tribal organization leaders, senior administration officials and members of Congress.
He called the Adidas initiative "a very smart thing to do" and said the more than 2,000 schools that still employ Native American mascots no longer have an excuse not to change them.
"One of the top brands in the world is prepared to come in and use all their expertise and come up with something that ... can bring people together and give a fresh start," he said. "I really want to give them a lot of credit."
The comments followed a day-long event held by the White House that brought Native Americans together with members of the administration to discuss issues facing Native Americans. Adidas executives attended the conference.
"I don't know if Adidas made the same offer to a certain NFL team here in Washington," he said, referring to the Washington Redskins. "They might want to think about that as well."
Comments will be moderated. Keep comments relevant to the article. Remarks containing abusive and obscene language, personal attacks of any kind or promotion will be removed and the user banned. Final decision will be at the discretion of the Taipei Times.