Chicago Bulls rally late to defeat Oklahoma City
NO WORSE FOR WEAR: The Miami Heat's Dwyane Wade recovered from a migraine headache earlier this week to score 25 points in his team's win over the Timberwolves
Derrick Rose on Thursday night scored 29 points and Jimmy Butler added 26 to lead the Bulls to a 104-98 victory over Oklahoma City.
Rose scored 10 points over the final three-and-a-half minutes to lift the Bulls after they blew a 10-point lead in the fourth quarter.
Oklahoma City tied it with just more than five minutes left in the game. However, Rose's performance down the stretch helped offset Durant's 33 points and lifted the Bulls.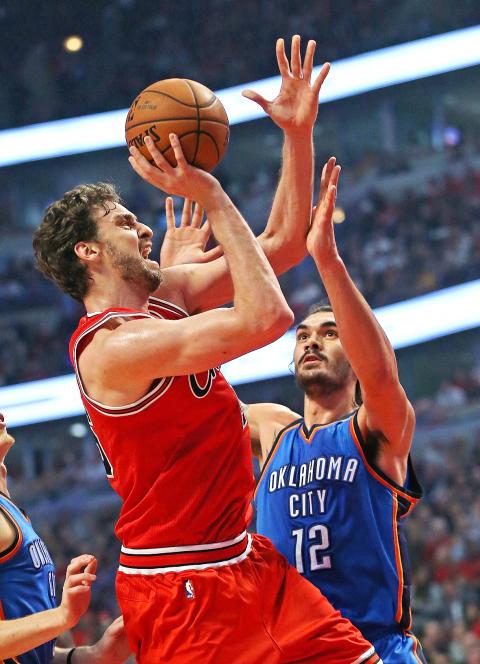 The Chicago Bulls' Pau Gasol, left, shoots over the Oklahoma City Thunder's Steven Adams in their game at the United Center in Chicago on Thursday.
Photo: AFP
Russell Westbrook had 20 points and 10 assists and Serge Ibaka scored 17 points for the Thunder, who lost their third straight.
Chicago were clinging to a 98-96 lead when Rose hit consecutive jumpers to make it a six-point game with just more than one minute remaining.
After Durant hit a jumper, Pau Gasol nailed a sweeping hook with 38.4 seconds left, sealing the win for the Bulls.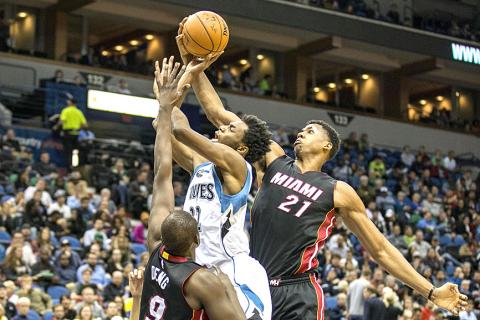 The Miami Heat's Hassan Whiteside, right, blocks a shot from the Minnesota Timberwolves' Andrew Wiggins, center, in the second half of their game at the Target Center in Minneapolis, Minnesota, on Thursday.
Photo: Jesse Johnson-USA TODAY
HEAT 96, TIMBERWOLVES 84
In Minneapolis, Minnesota, Dwyane Wade, showing no ill effects from a migraine headache two days ago, scored 25 points in Miami's victory.
Chris Bosh had 16 points and 12 rebounds for the Heat, who were playing one day after reserve guard Gerald Green was hospitalized for unspecified reasons. Heat coach Erik Spoelstra said Green's condition had improved by Thursday, but it remained unclear why he was hospitalized and how long he will be away.
Shabazz Muhammad had 14 points and six rebounds on a brutal shooting night for the Timberwolves, who shot just 35 percent from the field. Andrew Wiggins was five for 18 and Karl-Anthony Towns made just three of 13 shots.
Goran Dragic added 18 points as all five Heat starters scored in double figures.
HORNETS 108, MAVERICKS 94
In Dallas, Al Jefferson scored a season-high 31 points on 15-of-18 shooting and Marvin Williams added 17 points and 12 rebounds for Charlotte, who pulled away in the third quarter.
Deron Williams led the Mavericks with 15 points, while Dirk Nowitzki, Zaza Pachulia and Dwight Powell added 14 each.
The victory was the first in Dallas following 11 defeats for the franchise that began as the Charlotte Bobcats in 2004-2005. The Mavericks had run off 14 straight home wins over Charlotte's two NBA teams since the original Hornets won at Reunion Arena in January 1998.
Charlotte led 54-53 at halftime thanks in great measure to a 30-20 advantage on points in the paint. The Hornets outscored the Mavericks 24-14 in the third quarter, shooting 50 percent while Dallas hit 22.7 percent and missed on all eight of their three-point attempts.
Jefferson had nine rebounds.
JAZZ 96, NUGGETS 84
In Denver, Colorado, Gordon Hayward scored 20 points, including seven in the fourth quarter, as Utah pulled away late.
Trevor Booker added 13 points and Rudy Gobert had eight points and 16 rebounds for Utah, who kept the Nuggets winless in their two home games this season. Alec Burks and Trey Burke added 12 points apiece.
Danilo Gallinari had 18 points to lead Denver, while Will Barton added 12.
Utah outshot Denver 43.5 percent to 38.9 percent.
Rodney Hood and Hayward hit successive three-pointers as part of a 12-0 run carrying the Jazz to a 90-73 lead with 4 minutes, 17 seconds left.
TRAIL BLAZERS 115, GRIZZLIES 96
In Portland, Oregon, Damian Lillard scored 27 points, including 14 in the third quarter, to lead Portland to the win.
It was the second game of a back-to-back for the Trail Blazers, who have strung together a modest three-game winning streak. C.J. McCollum added 20 points and a career-high five assists.
Courtney Lee led the Grizzlies with 18 points while Zach Randolph, who played for the Blazers for the first six years of his career, had 16 points and 10 rebounds.
Lillard hit seven three-pointers, including one that put Portland ahead 95-71 early in the fourth quarter.
Comments will be moderated. Keep comments relevant to the article. Remarks containing abusive and obscene language, personal attacks of any kind or promotion will be removed and the user banned. Final decision will be at the discretion of the Taipei Times.