Schweinsteiger to file suit against Nazi doll maker
Germany captain Bastian Schweinsteiger is taking legal action against a Chinese company that manufactured a doll bearing the midfielder's resemblance dressed in Nazi military uniforms, a spokesman for the player said on Thursday.
The figure named "Bastian" and seen wearing various German World War II military uniforms, which feature the swastika and eagle, a symbol of Nazi Germany, is on sale through Hong-Kong based company Dragon in Dream.
The resemblance to the Manchester United playmaker Schweinsteiger is striking.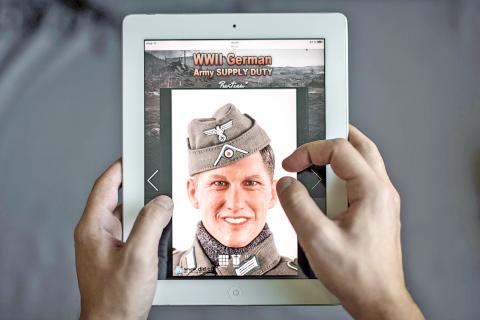 A man looks at the Web site of Dragon in Dream, a company that produced a doll with a face similar to Bastian Schweinsteiger in Nazi uniform, in Hong Kong yesterday.
Photo: AFP
A spokesman for 31-year-old, who won the World Cup with Germany last year, told reporters he was taking legal action, while German media were enraged by what they perceived as a Nazi depiction of the player.
"Filth," said Munich's tz newspaper, while Stern magazine said "Scandal doll Bastian. That is what it looks like," next to a picture of the controversial product.
Dragon in Dream, which also sells figures of former Soviet Union leader Joseph Stalin and former British prime minister Winston Churchill, was still advertising the figure on the front-page of its Web site on Thursday.
The company had previously denied that they had created the dolls to look like any soccer player, according to German newspaper Bild, and said it was purely coincidental that the Nazi doll resembled Schweinsteiger.
Schweinsteiger is among the most successful German soccer players of his generation, having won the Champions League with Bayern Munich in 2013, as well as numerous domestic league and German Cup titles.
Additional reporting by AFP
Comments will be moderated. Keep comments relevant to the article. Remarks containing abusive and obscene language, personal attacks of any kind or promotion will be removed and the user banned. Final decision will be at the discretion of the Taipei Times.