Bird lifts Yankees over Jays 6-4 to close on lead
BIRD OF PREY: Greg Bird's three-run homer in the 10th put New York within 2.5 games of the AL East leaders, while in Chicago, Jake Arietta notched his 20th win
Greg Bird hit a three-run homer in the 10th inning as the New York Yankees beat the Toronto Blue Jays 6-4 on Tuesday night to move closer in the American League East pennant race.
Bird connected off reliever Mark Lowe (1-3) for the rookie's 10th home run in 34 games and third in the past three nights.
Brian McCann led off the 10th with a bunt single and was replaced by pinch-runner Rico Noel. Slade Heathcott reached on catcher's interference before Bird drove a 2-2 pitch into the right-field bullpen. Six of his 10 homers have given the Yankees a lead.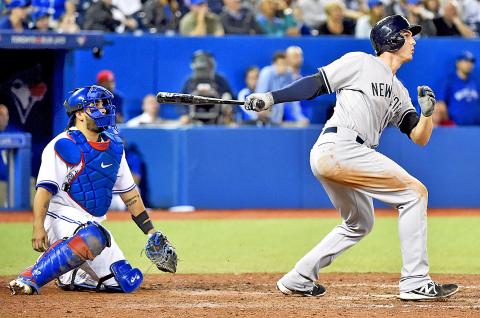 The New York Yankees' Greg Bird, right, watches his three-run home run against the Toronto Blue Jays on Tuesday in Toronto, Ontario.
Photo: AP
Andrew Miller (3-2) pitched two innings for the win and New York closed within 2.5 games of first-placed Toronto. The teams were to meet for the final time this season last night.
CUBS 4, BREWERS 0
In Chicago, Jake Arrieta threw a three-hitter to become the first pitcher in the major leagues to reach 20 wins, while Kris Bryant set the Cubs rookie record for home runs as Chicago inched closer to a playoff berth with a victory over the Brewers.
Arietta (20-6) struck out 11 for Chicago, whose magic number for making their first post-season in seven years dropped to three.
The right-hander retired 14 in a row at one point in becoming the first Cubs pitcher to win 20 games since Jon Lieber in 2001.
Bryant, whose April 17 debut was one of the most anticipated in years, hit a two-run homer in the third off Tyler Cravy (0-8) to give Chicago a 2-0 lead. It was Bryant's 26th longball, besting Billy Williams' mark in 1961. Bryant added a run-scoring double in the eighth.
ANGELS 4, ASTROS 3
In Houston, Mike Trout and Albert Pujols hit back-to-back homers in the first inning as the Angels held on for an important victory over the Astros.
The victory moves the Angels 2.5 games behind Houston for the second American League wild-card spot.
There was one on in the first when Trout launched his 40th homer into left-center to make it 2-0. The 36th home run this season by Pujols extended the lead to 3-0.
Houston cut the lead to 1 when Marwin Gonzalez and Chris Carter hit consecutive solo shots in the second inning.
The Angels added an insurance run on an RBI single by Kole Calhoun in the eighth to help them snap a six-game losing streak in Houston.
Hector Santiago (9-9) allowed four hits and two runs in five-plus innings.
PIRATES 6, ROCKIES 3
In Denver, Colorado, Starling Marte drove in two runs and the Pirates closed in on their third straight playoff berth by beating the Rockies.
The Pirates reduced their magic number to one for securing at least a National League wild card.
A win yesterday against the Rockies would clinch another trip to the post-season.
Pittsburgh also kept pace with NL Central leaders St Louis. The Cardinals beat Cincinnati to maintain a four-game lead over the second-place Pirates.
Pittsburgh scored in each of the first four innings against Chris Rusin to build a 6-3 lead.
In other MLB action, it was:
‧ Orioles 4, Nationals 1
‧ Braves 6, Mets 2
‧ Rangers 8, Athletics 6
‧ Giants 4, Padres 2
‧ Diamondbacks 8, Dodgers 0
‧ Tigers 2, White Sox 1, 10 inns
‧ Rays 5, Red Sox 2
‧ Twins 3, Indians 1
‧ Mariners 11, Royals 2
‧ Phillies 6, Marlins 2
‧ Cardinals 3, Reds 1
Comments will be moderated. Keep comments relevant to the article. Remarks containing abusive and obscene language, personal attacks of any kind or promotion will be removed and the user banned. Final decision will be at the discretion of the Taipei Times.