Martin, Blue Jays rout Yankees 11-5
REUNION: Russell Martin hit two homers to drive in four runs against his former team, while in Atlanta, the Mets won their fifth straight, against the anemic Braves
Russell Martin homered twice and drove in four runs against his former team as the Toronto Blue Jays went deep five times to beat the New York Yankees 11-5 on Friday night in the opener of their weekend showdown for first place in the AL East.
Josh Donaldson and Justin Smoak each hit a two-run shot in a five-run first inning to build a big lead for David Price.
Edwin Encarnacion added a titanic drive after the Blue Jays chased rookie starter Luis Severino in the third.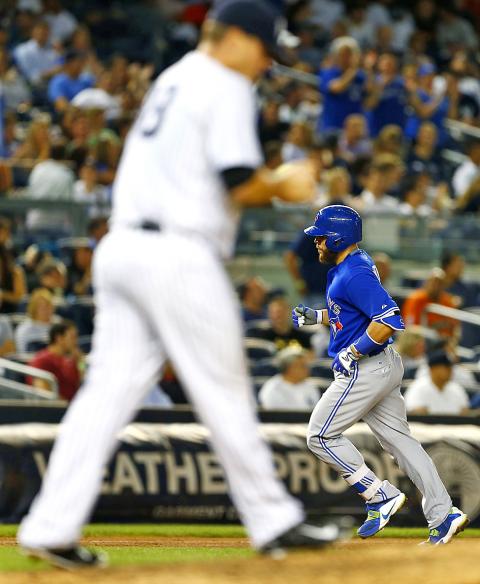 Russell Martin of the Toronto Blue Jays, right, rounds the bases after hitting a two-run home run off Chasen Shreve of the New York Yankees in the seventh inning of their MLB game at Yankee Stadium in New York City on Friday.
Photo: AFP
Seeking their first playoff appearance in 22 years, Toronto increased their division lead to 2.5 games over New York.
The teams were to play a rare single-admission doubleheader at Yankee Stadium yesterday to make up Thursday night's rainout.
The four-game series is set to conclude today.
METS 5, BRAVES 1
In Atlanta, Georgia, rookie Steven Matz pitched five strong innings, while Yoenis Cespedes had a home run and three RBIs as New York took another step toward a division title with a win over Atlanta.
With Washington losing to Miami 2-1, the Mets lead the NL East by a season-high 8.5 games.
It was the Mets' fifth straight victory.
Matz allowed one run and six hits as he improved to 3-0 in four career starts and lowered his ERA to 1.88 against an anemic Braves offense that is last in the majors in runs.
Rookie Matt Wisler (5-7) took the loss for the Braves after allowing two runs in five innings.
Wisler has lost six straight decisions for the Braves, who have dropped 22 of their past 25 games.
Atlanta have lost 10 straight games at Turner Field in Atlanta, tying the franchise's single-season home losing streak.
MARLINS 2, NATIONALS 1
In Miami, NL batting leader Bryce Harper struck out three times and stranded five runners as fading Washington lost their fourth straight game.
The Nationals out-hit the Marlins 7-5, but went 0 for 6 with runners in scoring position, and their lone run was unearned.
Washington, swept in a three-game series by the Mets earlier this week, began the night 7.5 games behind first-place New York in the NL East.
Mike Dunn (2-5) struck out Harper, the only batter he faced, with two on to end the seventh and keep the score 1-all. J.T. Realmuto led off the bottom of the seventh with a double off Casey Janssen (1-5) and later scored the tie-breaking run on a sacrifice fly by Miguel Rojas.
PIRATES 6, BREWERS 3
In Pittsburgh, Chris Stewart had three hits and three RBIs, while Charlie Morton pitched six strong innings as Pittsburgh ended their seven-game losing streak against Milwaukee.
Stewart hit a two-run single that capped a three-run fourth inning that put the Pirates ahead for good 3-2. The backup catcher, starting for resting Francisco Cervelli, added an RBI single in the sixth.
Stewart tied his career high with his third three-hit game of the season and the fifth of his nine-year career.
Morton (9-7) snapped a three-start losing streak, allowing two runs and three hits while walking two and striking out two.
Mark Melancon struck out two in a perfect ninth for his 45th save in 47 chances.
Jimmy Nelson (11-12) lost for the just the second time in six decisions against the Pirates this season.
CARDINALS 2, REDS 2 (SUSPENDED)
In Cincinnati, heavy rain forced the St Louis at Cincinnati game to be suspended in the top of the eighth inning.
It was to be resumed at 12:30pm yesterday, with the regularly scheduled game to follow.
In other MLB action, it was:
‧ Cubs 5, Phillies 1
‧ Cubs 7, Phillies 3
‧ Orioles 14, Royals 8
‧ Twins 6, White Sox 2
‧ Rays 8, Red Sox 4
‧ Rangers 4, Athletics 0
Comments will be moderated. Keep comments relevant to the article. Remarks containing abusive and obscene language, personal attacks of any kind or promotion will be removed and the user banned. Final decision will be at the discretion of the Taipei Times.