Hsu trails LPGA Classic leaders by stroke
Lexi Thompson birdied six of the first eight holes and wanted more.
"I wanted to make more birdies on the back nine, but it is what it is," she said.
She did add one more birdie on Friday for a season-best seven-under 64 and a share of the Meijer LPGA Classic lead with Alison Lee and Lizette Salas.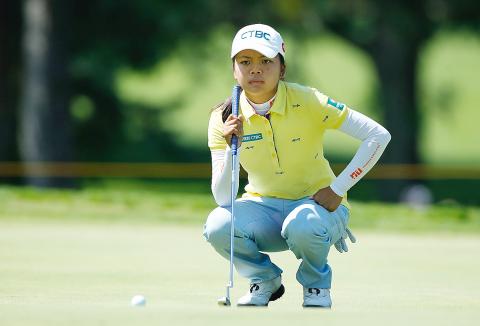 Taiwan's Hsu Wei-ling reads a putt on the eighth green in the second round of the Meijer LPGA Classic at Blythefield Country Club in Grand Rapids, Michigan, on Friday.
Photo: AFP
"I hit it in the rough on a few holes on the back nine, where I needed to hit it in the fairway to be able to make birdies, but I'm very happy with my round, don't get me wrong," Thompson said.
Thompson, 20, matched Lee and Salas at nine-under 133 at the Blythefield Country Club.
Lee, the 20-year-old former UCLA player in her first season on the tour, had a 66, and playing partner Salas, a former University of Southern California star, shot a 69.
Kris Tamulis closed with a bogey on the par-four ninth to drop into a tie for fourth at eight-under with Taiwan's Hsu Wei-ling (69), Gerina Piller (65), Jaye Marie Green (69) and Q Baek (68).
Top-ranked Inbee Park, a playoff loser last year in the inaugural event, was tied for 18th at four-under after a 68. She has a tour-high three victories this season.
Thompson, winless since taking the then-Kraft Nabisco last year for her first major title, took advantage of early windless scoring conditions. Thompson birdied on the first, second, fourth through sixth, eighth and 15th holes.
"The greens were rolling really well out there early in the morning, so it was nice," Thompson said. "Playing in the morning without the wind and the greens are a little bit softer in the morning, so it's easier to just control the way your irons are going to bounce out into the green. It was a lot easier to control than [on Thursday] afternoon."
Lee, who is still working on her degree at UCLA, said she was inspired by Salas shooting 64 in the first round.
"We kind of pushed each other through the day," Lee said. "I was fired up today going into the round and wanted to shoot a low number. It's great to be in contention. I mean, this is my rookie year and I'm still learning."
Salas said playing in the afternoon in the second round was a sharp contrast to the first round.
"The wind definitely kicked in this afternoon and you have to be really precise to your targets," she said.
She said she has not been on top of the leaderboard in a while, and she is excited.
"We have 36 more to go and I'm going to try to be patient and stay calm and just be committed to every shot," she said.
Park said being five shots off the lead was fine, but it is more important to have good results this week to give her confidence going into the Women's British Open next week.
"The most important thing is just work on my game so it's ready to go next week," she said. "You know, make sure that your ball striking, your swing feels good, make sure you're feeling good on the greens. This is the last chance to try it on. I'm trying to get my game to the level I want. It's not quite there, but trying to get there."
Taiwan's Min Lee finished tied for 53rd at one-under 141, while Kaohsiung-born Candie Kung of the US failed to make the cut after finishing two-over 144.
Additional reporting by staff writer
Comments will be moderated. Keep comments relevant to the article. Remarks containing abusive and obscene language, personal attacks of any kind or promotion will be removed and the user banned. Final decision will be at the discretion of the Taipei Times.