Slum resists eviction for Olympics
The Olympic Park for next year's Olympic Games is going up in one of Rio's wealthiest areas, and real estate prices are soaring even as Brazil enters a recession.
Smack up against the rising girders, on the far edge of the Olympic venue, sits a "favela," a slum, called Vila Autodromo. Most of the houses and businesses there have been bulldozed into rubble to make way for the games.
A free-standing stairway sits in the open air. The rest of the house is missing. In an abandoned house that is upright, a ragged hole exposes a pastel-painted child's room. The fallout from the wrecking ball scatters pulverized bricks, broken mirrors and fragments of ceramic blue tiles.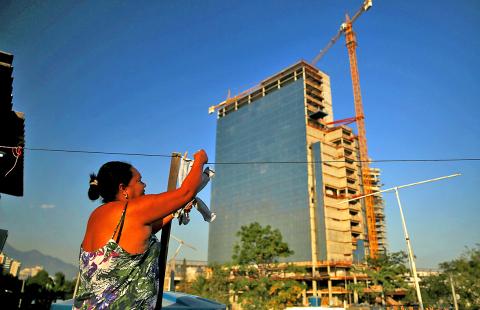 A Vila Autodromo slum resident picks up her clothes in front of the construction site for the Rio 2016 Olympic Park in Rio de Janeiro on Tuesday.
Photo: Reuters
It is a ghost town, except that 150 families of the original 700 have refused to budge, or take compensation or alternative new housing. Electricity and public services have been periodically cut off, and fights broke out last week when guards entered, firing pepper spray and rubber bullets to start an eviction.
The standoff underscores some of the resistance to developments related to the Olympics in Rio, with its stark divide between rich and poor.
"The Olympic Games are two weeks, and when it's over that Olympic area is going to be a neighborhood with shopping malls and gated communities," Maria da Penha, a 50-year-old woman who is heading up resistance to evictions, told reporters.
"So after the Olympics, why can't I continue in my home where I have lived for 23 years?" she said.
Penha's nose was broken and her eye was blackened when she was shoved to the ground during last week's attempted eviction. She said she was expecting more violence as the holdouts get more entrenched, with the Olympics set to start in 14 months.
"I imagine that I will get beaten again, because I will continue to resist for my rights," she said on Tuesday.
A tiny woman, Penha lives just 100m from the Olympics construction. Her house, like many that started as a modest slum dwelling, has grown into a spacious two-floor layout with a patio, fruit trees and a large terrace overlooking the Olympic venue.
"I have the hope to be here when the Olympics begin, and I will fight to be here," she said.
Theresa Williamson, a Brazilian urban planner and advocate for Rio's favela communities, said about 67,000 people in favelas have been evicted in Rio since the city was awarded the Olympics in 2009. She said there were "hardly any" evictions in the 20 years prior.
"The Olympics created this opportunity, the pretense for reorganizing the city and using that as a reason for removals," she told reporters. "Ultimately it is a small group of real estate and commercial interests and construction interests that want that land for post-Olympic luxury developments."
Much of the sprawling Olympic Park is to be transformed afterward into commercial developments. The athletes' village, 2km away, has 3,600 apartments that are to be sold off as top-end housing. Up the road, the new Olympic golf course is surrounded by 160 luxury apartments with prices starting in the US$2 million range.
Lawrence Vale, an urban planner at the Massachusetts Institute of Technology, has published a study titled The Displacement Decathlon, which examines how commercial forces in Rio and elsewhere drive mega-events like the Olympics or World Cup.
He and coauthor Annemarie Gray wrote: "The real losers in the Summer Olympics Games are often the low-income residents who happen to live in the path of new development, whose race begins well before and lasts long after the official competition."
Rio de Janeiro Mayor Eduardo Paes, lauded by the International Olympic Committee for organizing the Rio Olympics, has been driving the evictions.
In a statement to reporters, city hall said it has awarded 96 million reals (US$31.1 million) in compensation and that many residents have moved to nearby Parque Carioca, a development for families resettled from Vila Autodromo.
"The negotiation process conducted between city hall and the residents of Vila Autodromo has always been transparent," the statement said.
Mentioned as a candidate for Rio state governor, Paes has spoken out angrily at being forced to pay rising compensation to get people to move.
"At one given moment, a bunch of NGOs [non-governmental organizations], international organizations, political parties and public defenders came in," Paes told Rio's O Globo newspaper. "This is the result: people who don't need it are getting fortunes to vacate a public area. This is demagoguery."
One of Rio's best organized and safest favelas, Vila Autodromo grew out of a fishing village in the 1960s. Many of its residents got lawyers or volunteers to help oppose the city's plans — which has driven up the cost of eviction. Estimates suggest that some residents running small businesses received as much as 3 million reals, with the low-end figure about 100,000 reals.
Residents argue that they have legal titles to their properties, having been granted 99-year leases in 1994 to help guarantee against eviction. They also question why their relatively small parcel is needed for the Olympics.
A study by two major Rio universities said Vila Autodromo could have been upgraded with new roads, a medical clinic, a day care center, a new sewer system and other amenities for about 14 million reals.
City authorities have spent about seven times that on evictions, suggesting the potential value of Rio's most prized real estate in the western suburb of Barra da Tijuca.
Luiz Dos Santos, a 52-year-old man, said he has taken compensation and is leaving.
"For us, what is over there doesn't mean anything," he said, gesturing toward the Olympic Park. "That's for them, not for us."
Comments will be moderated. Keep comments relevant to the article. Remarks containing abusive and obscene language, personal attacks of any kind or promotion will be removed and the user banned. Final decision will be at the discretion of the Taipei Times.