A-Rod pushes Yankees past Red Sox
Alex Rodriguez tied Willie Mays for fourth place in major league history with his 660th home run, breaking an eighth-inning tie with a pinch-hit shot that sent the New York Yankees to a 3-2 win over the Boston Red Sox on Friday night.
Yankees manager Joe Girardi left Rodriguez out of the starting lineup to rest him, but sent him up to bat for Garrett Jones with one out in the eighth.
Rodriguez ran the count to 3-0, then lined a fastball from Junichi Tazawa (0-1) into the left-field seats above the Green Monster — his first career homer as a pinch hitter — and jogged around the bases to boos from the crowd at Fenway Park, where he made his major league debut with Seattle in 1994.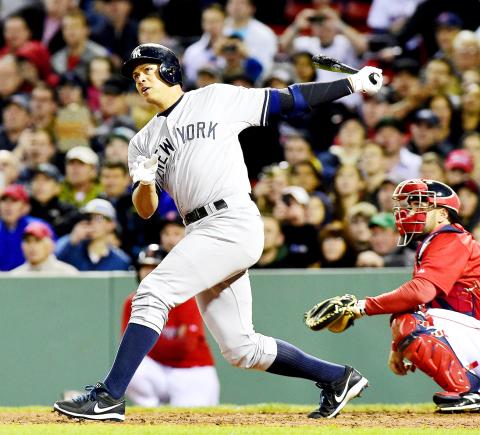 The New York Yankees' Alex Rodriguez, left, hits a home run in their game against the Boston Red Sox at Fenway Park in Boston on Friday.
Photo: USA Today
The Yankees' reaction was a bit subdued for a teammate who was suspended all of last season for his involvement in the Biogenesis performance-enhancing drug scandal. Players stayed in the dugout, applauding. However, when A-Rod arrived, Girardi gave him a high-five and teammates shook his hand and enthusiastically patted him on the back.
ROYALS 4, TIGERS 1
In Kansas City, Missouri, Chris Young pitched five no-hit innings and the Detroit Tigers did not break through until the eighth.
Young, making his first start of the year after five relief appearances, struck out nine and walked three before exiting with his pitch count reaching 81.
Young (2-0) walked the bases full with one out in the fourth, but recovered to strike out J.D. Martinez and Yoenis Cespedes on seven pitches to end the inning.
Ryan Madson pitched two perfect innings after Young was pulled.
Kendrys Morales drove in three of the Royals' runs.
Left-hander Kyle Lobstein (2-2) took the loss, yielding four runs on 10 hits in 7-1/3 innings.
CUBS 1, BREWERS 0
In Chicago, Jon Lester pitched seven scoreless innings for his first victory with Chicago and Addison Russell hit his first career home run.
Lester (1-2) allowed just three hits, struck out four and walked one in his best outing of the season. The left-hander received a standing ovation when he lifted in the top of the eighth inning.
Cubs manager Joe Maddon decided to go with reliever Pedro Strop to face switch-hitter Elian Herrera.
Strop pitched a perfect eighth inning and Hector Rondon pitched the ninth for his fifth save in six chances.
GIANTS 3, ANGELS 2
In San Francisco, pinch hitter Joe Panik singled in the winning run with two outs in the bottom of the ninth to lift the San Francisco Giants past the Los Angeles Angels.
Angel Pagan had two hits and drove in a run for the Giants, who have won seven of 11 since ending an eight-game losing streak.
David Freese hit a sacrifice fly, scoring Erick Aybar with the tying run in the top of the eighth. Aybar reached on a Matt Duffy fielding error.
Buster Posey beat out an infield single to open the ninth, Justin Maxwell sacrificed pinch runner Gregor Blanco to second and walks to Andrew Susac, who singled to give the Giants a 2-1 lead in the seventh, and Brandon Crawford loaded the bases for Panik, who singled sharply up the middle against Joe Smith (0-1).
Santiago Casilla (2-0) recorded the final five outs for the win.
In other results, it was:
‧ Indians 9, Blue Jays 4
‧ Rays 2, Orioles 0
‧ Mets 4, Nationals 0
‧ Athletics 7, Rangers 5
‧ Twins 1, White Sox 0
‧ Astros 4, Mariners 3
‧ Braves 4, Reds 3
‧ Dodgers 8, Diamondbacks 0
‧ Marlins 4, Phillies 3
‧ Cardinals 2, Pirates 1
‧ Padres 14, Rockies 3
Comments will be moderated. Keep comments relevant to the article. Remarks containing abusive and obscene language, personal attacks of any kind or promotion will be removed and the user banned. Final decision will be at the discretion of the Taipei Times.