Dodgers' Gonzalez hits three homers in LA win
RECORDS: While Adrian Gonzalez was making history against the Padres, Albert Pujols hit his own milestone with his 521st homer to move to 18th on the all-time list
Adrian Gonzalez hit three home runs, becoming the first player in major league history with five in the season's first three games, to help the Los Angeles Dodgers beat the San Diego Padres 7-4 on Wednesday to win their opening series.
Gonzalez had a four-hit game to go with consecutive three-hit games on Monday and Tuesday, becoming the first National League player to do so since Orlando Cepeda of San Francisco had three straight three-hit games in 1963.
Gonzalez homered in four consecutive at-bats dating to Tuesday before his RBI single in the sixth.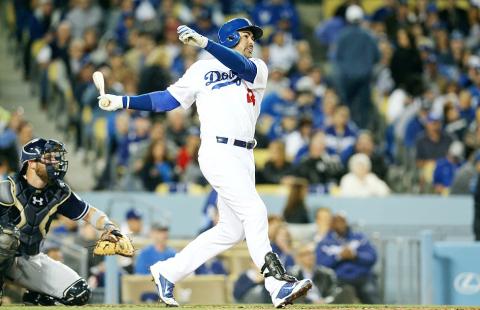 Adrian Gonzalez of the Los Angeles Dodgers hits his second home run of their game against the San Diego Padres in Los Angeles, California, on Wednesday.
Photo: AFP
The Dodgers rallied from a 2-0 deficit in the first to help Brandon McCarthy (1-0) earn his first win.
Andrew Cashner (0-1) gave up eight hits and six runs in five innings, struck out six and walked three.
CUBS 2, CARDINALS 0.
Jake Arrieta allowed three hits over seven innings and Starlin Castro had a go-ahead RBI single in a two-run seventh, leading the Cubs over the Cardinals for their first win this season.
Backed by just two hits from Chicago's offense, Arrieta (1-0) struck out seven and walked three. Phil Coke, Neil Ramirez, Pedro Strop and Hector Rondon combined for hitless relief.
Rendon pitched a perfect ninth for his first save with the Cubs, who lost 3-0 to St Louis in Sunday night's opener.
Lance Lynn (0-1) struck out nine in six-plus innings, allowing both runs — one earned — and two hits.
ANGELS 5, MARINERS 3
Albert Pujols hit his 521st home run to move into 18th place on baseball's career list as the Angels held on for a victory over the Mariners.
Pujols' home run, a two-run shot off Hisashi Iwakuma (0-1) in the first inning, tied him with Hall of Famers Ted Williams, Willie McCovey and Frank Thomas.
Matt Shoemaker (1-0) gave up a solo home run to Brad Miller in the third and two-run shot by Kyle Seager in the sixth.
Iwakuma (0-1) worked six innings, allowing nine hits, five runs, striking out three and walking none.
BRAVES 2, MARLINS 0
A.J. Pierzynski hit a two-run homer, while five pitchers combined on a six-hitter to help Atlanta complete a three-game sweep.
The season-opening sweep was the first for the Braves since 2007, outscoring Miami 16-3 in the series.
The 38-year-old Pierzynski, playing in his first game with his new team, broke up a scoreless tie in the seventh inning against Tom Koehler (0-1).
Shelby Miller made his first start with the Braves and allowed four hits in five innings. Brandon Cunniff (1-0) followed with 1-2/3 perfect innings for his first major-league victory. Jason Grilli pitched a 1-2/3 ninth for his second save.
YANKEES 4, BLUE JAYS 3
Chase Headley hit a tiebreaking single that deflected off the wrist of reliever Brett Cecil as New York rallied for three runs in the eighth inning.
Pinch hitter Chris Young opened the eighth with a bloop double that eluded rookie second baseman Devon Travis, while Jacoby Ellsbury singled and Aaron Loup (0-1) loaded the bases when he hit Brett Gardner with a pitch.
Young scored on a wild pitch by Cecil, who forced in the tying run when he plunked McCann with a pitch. Headley hit a one-hopper that caromed off Cecil's right wrist and past shortstop.
Dellin Betances (1-0) got the win and Andrew Miller worked a perfect ninth for the save in his Yankees debut.
The crowd of 31,020 was New York's smallest for a home game in 11 years.
In other results, it was:
‧ Phillies 4, Red Sox 2
‧ Tigers 11, Twins 0
‧ Nationals 2, Mets 1
‧ Rays 2, Orioles 0
‧ Indians 2, Astros 0
‧ Royals 7, White Sox 5
‧ Rockies 5, Brewers 4, 10 innings
‧ Athletics 10, Rangers 0
‧ Giants 5, Diamondbacks 2
‧ Reds 5, Pirates 4, 11 innings
Comments will be moderated. Keep comments relevant to the article. Remarks containing abusive and obscene language, personal attacks of any kind or promotion will be removed and the user banned. Final decision will be at the discretion of the Taipei Times.