Wang Jianlin buys stake in Atletico Madrid
Chinese billionaire Wang Jianlin yesterday bought a 20 percent stake in Spanish league champions Atletico Madrid, his company announced, the first Chinese investment in a top European football club.
The deal was worth 45 million euros (US$52 million), the real-estate tycoon's Wanda Group said on a verified account on China's Twitter-like Sina Weibo.
It would provide "all-round support for the development of Chinese football," the statement said, adding that both sides would spend 30 million euros on a youth training center in Madrid to foster young talent, including players from China.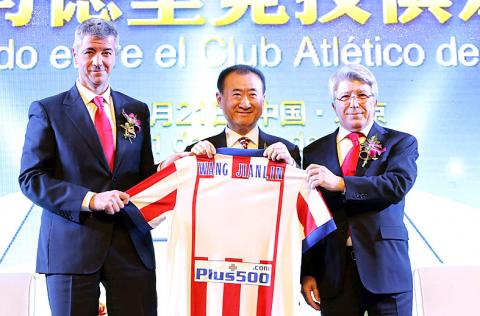 Wang Jianlin, center, yesterday holds an Atletico Madrid jersey with his name on it, alongside club president Enrique Cerezo, right, and managing director Miguel Angel Gil after a signing ceremony in Beijing, China.
Photo: Reuters
Wang is No. 42 on Forbes magazine's list of the world's richest people, with a fortune estimated at US$18 billion, and was named as China's second-wealthiest man last year. The flotation of one of his firm's subsidiaries might have since propelled him into first place.
He is a diehard football fan and Wanda became a household name across China after Wang bought a Dalian football club in 1994, renamed it after the firm and transformed it into the strongest team in China.
However, Wang sold Dalian Wanda in 2000 after he became disillusioned with widespread corruption in the Chinese game at that time.
More recently, Wanda has been looking to diversify away from the real-estate sector — which is facing considerable challenges in China — by investing in an ever-expanding portfolio of companies, including cinema chain AMC and yacht-builder Sunseeker.
Atletico, last year's La Liga champions, have racked up debts in recent years, despite their success on the field.
Chairman Enrique Cerezo agreed the deal with Wang in Beijing, Xinhua news agency said.
Xinhua said Wanda Group is currently funding a youth training project which sent 90 young Chinese footballers to Spain, with the number expected to reach 180 by 2017.
"What we are doing is to raise the level of [the] Chinese game," Wang was cited by the news agency as saying.
"Hopefully, three to five among those 90 young players will play for top European clubs in the future, and in five years, Spain-trained players will fill the Chinese team in the Asian Cup," he added, referring to the continental championship, which is currently being played in Australia.
The two sides are to collaborate on setting up three football schools in China, the Wanda statement said, and Atletico might tour China later this year.
Comments will be moderated. Keep comments relevant to the article. Remarks containing abusive and obscene language, personal attacks of any kind or promotion will be removed and the user banned. Final decision will be at the discretion of the Taipei Times.