Royals win in extra innings again
DRAMATIC FINISH: Eric Hosmer hit a two-run homer in the 11th to give Kansas City a 2-0 lead in their series. Baltimore also lead 2-0 after edging the Detroit Tigers 7-6
MAJOR LEAGUES
The Kansas City Royals became the first team in the history of Major League Baseball playoffs to win three straight extra-innings games, beating the Los Angeles Angels 4-1 on Friday to take a 2-0 lead in the best-of-five series with two home games to come.
Having won the wild-card game and the series opener against the Angels in extra innings, it was too much to hope for another dramatic finish, but that is exactly what Kansas City provided, with Eric Hosmer hitting a two-run homer in the 11th inning.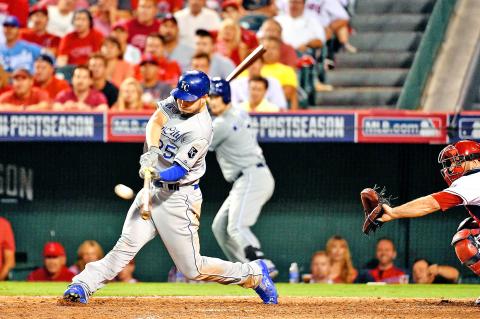 Eric Hosmer of the Kansas City Royals hits a two-run home run in the 11th inning against the Los Angeles Angels during Game 2 of the American League Division Series at Angel Stadium in Anaheim, California, on Friday.
Photo: AFP
Baltimore also earned a 2-0 lead in their American League Division Series against Detroit by edging the Tigers 7-6. The Orioles scored four runs in the eighth inning to delight their home crowd.
The National League's two Division Series got underway, with both visiting teams winning tight encounters: San Francisco won 3-2 at Washington and St Louis surged late to take a 10-9 victory at the Los Angeles Dodgers.
In their first post-season appearance since winning the World Series in 1985, Kansas City's stunning roll in these playoffs have carried the Royals to the brink of a series win against the Angels, who had the best record of any team during the regular season.
Hosmer had three hits and scored two runs while Alex Gordon had an early run-scoring single and Salvador Perez added an RBI infield single in the 11th.
Game 3 in the series is today in Kansas City, where Angels starter C.J. Wilson faces James Shields.
Baltimore scored four runs in the eighth inning to overrun Detroit 7-6 and move within one win of the AL Championship Series.
A day after the Orioles scored eight runs in the eighth for a 12-3 win, they again produced their best in the penultimate frame and came back from a three-run deficit.
It was 6-3 with one out when reliever Joba Chamberlain hit Adam Jones with a pitch, then gave up a single to Nelson Cruz before Steve Pearce singled in a run.
Joakim Soria (0-1) replaced Chamberlain on the mound and walked J.J. Hardy to load the bases. Pinch hitter Delmon Young then produced a double to the left-field corner to drive in three runs.
Baltimore will try for a sweep in Game 3 today in Detroit, when Miguel Gonzalez starts against the Tigers' third straight Cy Young winner in David Price.
San Francisco's Jake Peavy shook off a poor personal history in playoff games as he steered the Giants to a 3-2 win at Washington in their series opener.
The intense Peavy is a former Cy Young Award winner, but he has never has been much of an October performer, going 0-3 with a 9.27 ERA in five previous starts.
However, maybe the Giants' aura has rubbed off on him, because the 33-year-old right-hander threw 5-2/3 scoreless innings to set up the victory.
San Francisco has now won their past nine playoff games, dating back to their 2012 World Series-winning campaign.
Buster Posey, Joe Panik and Brandon Belt drove in San Francisco's runs.
Game 2 was scheduled for yesterday, with Washington's Jordan Zimmermann — who threw a no-hitter in the regular-season finale — facing Tim Hudson.
St Louis piled on eight runs in the seventh inning, overwhelming the Dodgers and taking the series opener 10-9.
Matt Carpenter hit a go-ahead, three-run double off a wilting Clayton Kershaw and the Cardinals hung on in a fiery game.
St Louis overcame an early five-run deficit to prevail in a game in which two ace pitchers both put in disappointing performances.
Cardinals' starter Adam Wainwright lasted only 4-2/3 innings, giving up six runs, while Kershaw could not maintain his levels late in the contest and allowed St Louis back into the game.
Wainwright hit Yasiel Puig with a pitch leading off the third, triggering a bench-clearing scrum. There was shoving and shouting, but no punches were thrown.
The game ended just shy of four hours when Trevor Rosenthal blew a fastball past Puig with a runner on third.
Comments will be moderated. Keep comments relevant to the article. Remarks containing abusive and obscene language, personal attacks of any kind or promotion will be removed and the user banned. Final decision will be at the discretion of the Taipei Times.