Chen Wei-yin earns ninth win
MR RELIABLE: Taiwan's Chen is 6-1 in 12 starts since May 3 as he gave up three runs and eight hits in 5-2/3 innings, walking none and striking out six
INTERLEAGUE
After the Baltimore Orioles and the Washington Nationals expended everything they had in three consecutive spirited games, the neighboring rivals parted ways knowing they will see each other again next month. Then, perhaps, again after that.
Steve Pearce homered and scored twice to help Taiwan's Chen Wei-yin earn his ninth victory as the Orioles beat Washington 4-3 on Thursday night for their eighth win in 10 games.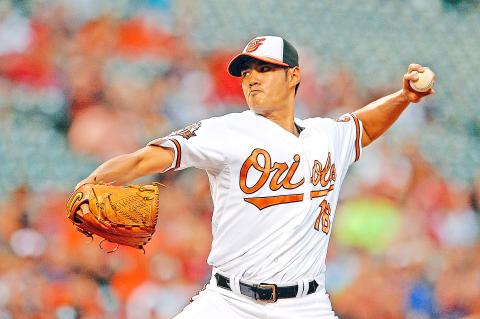 Taiwan's Chen Wei-yin of the Baltimore Orioles pitches against the Washington Nationals in their interleague game in Baltimore, Maryland, on Thursday.
Photo: AFP
Adam Jones and Nelson Cruz both drove in a run for the Orioles, who built a 4-0 lead in the third inning and held on. Baltimore took two of three from the Nationals in the rain-shortened, home-and-home interleague showdown between division leaders.
"I personally enjoyed that series a lot, just cause of the proximity and the atmosphere down in DC," said Orioles reliever Darren O'Day, who worked out of a bases-loaded jam in the eighth. "They're top of the NL. Hopefully, we get to play them a few more times, later in the year in October. That would be nice."
The Orioles won the opener in Washington, needing 11 innings to do so, before rain postponed Tuesday's game until Aug. 4. The Nationals prevailed on Wednesday before coming up short in the finale.
Steve Pearce of the Baltimore Orioles, right, celebrates with teammate Nelson Cruz after hitting a solo home run against the Washington Nationals in the first inning of their interleague game in Baltimore, Maryland, on Thursday.
Photo: AFP
Although the teams are based only 65km apart, enthusiasm for the series is not exactly Mets-Yankees or Cubs-White Sox, but there is still hope.
"It was a good series. It was very well put together," losing pitcher Gio Gonzalez said. "It showed that there's a lot of hope for a Beltway Series. They looked good and we looked good. Everyone had some fun."
Jayson Werth homered for Washington, while Ryan Zimmerman had two hits and an RBI.
Chen (9-3) gave up three runs and eight hits in 5-2/3 innings, walking none and striking out six. The Taiwanese left-hander is 6-1 in 12 starts since May 3 and his nine wins are the most on the team.
After O'Day survived the eighth, Zach Britton got three outs for his 15th save, capping his 22nd consecutive scoreless appearance at home by retiring Werth with a runner on first.
At that point, the Orioles and many in crowd of 30,417 breathed a collective sigh of relief.
"That's a very good team," Jones said. "We love the competition and we love the fact that you never know what could happen in October. You could have a Battle of the Beltway when it's a little colder and bring the fans back out."
Gonzalez (6-5) allowed three earned runs and six hits in 6-2/3 innings. His streak of 22 consecutive scoreless innings ended when Pearce connected in the first.
Gonzalez won his previous three starts without giving up a run and was unbeaten in four starts following a one-month stay on the disabled list with a shoulder injury.
"I felt fine," Gonzalez said. "It's a tough lineup, all the way down to the last guy."
Pearce put the Orioles in front for good with a drive to left on a 2-0 pitch. It was his 11th home run, more than his previous three seasons combined.
Baltimore added three runs in the third after Gonzalez retired the first two batters. After an RBI double by Jones put runners on second and third, Cruz grounded a run-scoring single in the hole that shortstop Ian Desmond gloved before throwing wildly to third, allowing Jones to score.
That ended Washington's 13-game errorless streak, which matched the team's longest run since the franchise moved from Montreal in 2005.
Zimmerman's two-out RBI single made it 4-1 in the fourth and Washington got runners on the corners with two outs in the fifth, before Chen struck out Anthony Rendon on three pitches.
The Nationals closed to 4-3 in the sixth.
After Werth homered on an 0-2 pitch — his second long ball in two nights — Zimmerman doubled and Desmond chased Chen with an RBI double off the scoreboard in right field, before Tommy Hunter retired Wilson Ramos on a ground-out.
Ramos later flied out with the bases full in the eighth.
Comments will be moderated. Keep comments relevant to the article. Remarks containing abusive and obscene language, personal attacks of any kind or promotion will be removed and the user banned. Final decision will be at the discretion of the Taipei Times.