Bankers rally to win fourth amateur title
Taiwan Cooperative Bank on Monday claimed their fourth title in the team's history after crushing Taipower in a 7-2 final at the Taichung Municipal Baseball Stadium in a decisive Game 3 victory that put them past their rivals 2-1 in the CTBA National Spring Baseball Tournament.
Monday night's triumph completed a two-game comeback for the Bankers that saw them overcome a 1-0 deficit in the best-of-three title series.
Taipower took the series lead on Friday with a convincing 6-2 victory over their rivals, before dropping a 2-1 heartbreaker in Game 2 on Sunday to set up the final game clincher.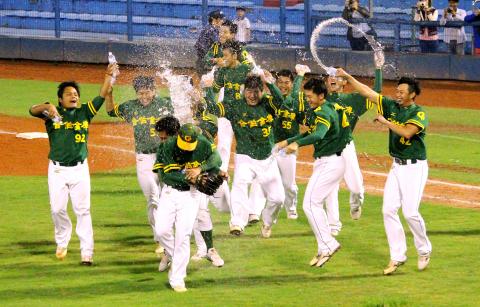 Taiwan Cooperative Bank players splash each other with water after beating Taipower on Monday in Greater Taichung to win the CTBA National Spring Baseball Tournament.
Photo courtesy of the CTBA
In the showdown between the two perennial powerhouses in Taiwanese amateur baseball, Taipower struck first, courtesy of a run in the bottom of the opening frame on the strength of Chen Wei-chih's RBI single.
The Bankers returned the favor with interest with a pair of runs in the top of the third inning, when Huang Chia-wei doubled off the left-field wall to drive in the runners at the corners.
However, the Bankers' 2-1 lead lasted less than an inning as Taipower quickly evened the scoreline at two-all in the bottom of the third.
However, the equalizing run proved to be Taipower's last, because after reliever Tang Chia-chun entered in the top of the fifth, he dominated the opposing hitters for the rest of the game, pitching five innings of shutout ball to pocket his second straight victory of the series.
With a stingy Tang on form at the mound, the Bankers erupted in the bottom of the fifth, scoring four runs that were highlighted by Hsu Chih-fong's two-run double with the bases loaded.
Leading the Bankers' attack on combined 7-for-7 hitting at the plate were Yang Hsien-hsien and Huang, with the former going 4-for-4 and scoring three times and the latter driving in four runs in a perfect 3-for-3 outing.
"I'm extremely pleased with our players for not giving up, especially after we fell behind in the series in the opening game," Taiwan Cooperative Bank manager Hsu Hsuan-yi said after the game.
Rounding out the top-five finishers in a field of 27 teams were the Fubon Bulls, who finished third in the two month-long competition, followed by the Blue squad of the National Sports Training Center and Taichung's Veetime.
Comments will be moderated. Keep comments relevant to the article. Remarks containing abusive and obscene language, personal attacks of any kind or promotion will be removed and the user banned. Final decision will be at the discretion of the Taipei Times.